Everett Console Table – Multiple Ways to Style It
Disclosure: This post may contain affiliate links. As an Amazon Associate, I earn from qualifying purchases at no additional cost to you.
After years of staring at the Everett Console table on Instagram, I finally decided to buy it for myself. It's one of those no-brainer purchases once you find out how much it costs. I have recommended it to many friends who have bought it. No one ever regrets this purchase! However, I already have a Pottery Barn console table that is very similar to this one. I just had no place to put the Everett Console Table no matter how cheap and pretty it was.
What changed recently to make me finally buy it, was the color of my walls. After I added molding to my hallway, I painted the walls white. My old PB table is a creamy white color and it no longer looked right against the bright white walls. So I waited for a sale and snagged the Everett Console table for around $260! A steal, right!
What is the quality like, you might ask. Since it's dirt cheap, maybe it's not well made. The quality is amazing. It's a heavy, sturdy, all wood table. Very similar to something you might get at Pottery Barn for five times the cost. Yes, you have to assemble it but it's not hard at all.
I quickly put it together and started playing around with the decor I already had. There are so many ways you can style this table. It's versatile and can be used as an entryway table, a sofa table, even a media console!
One of the looks is inspired by the beach with soft aqua tones and pops of pink. Another is a more formal look featuring blue and white accents. The third style is more minimal and features vintage elements. Enjoy the pics and let me know which one is your favorite!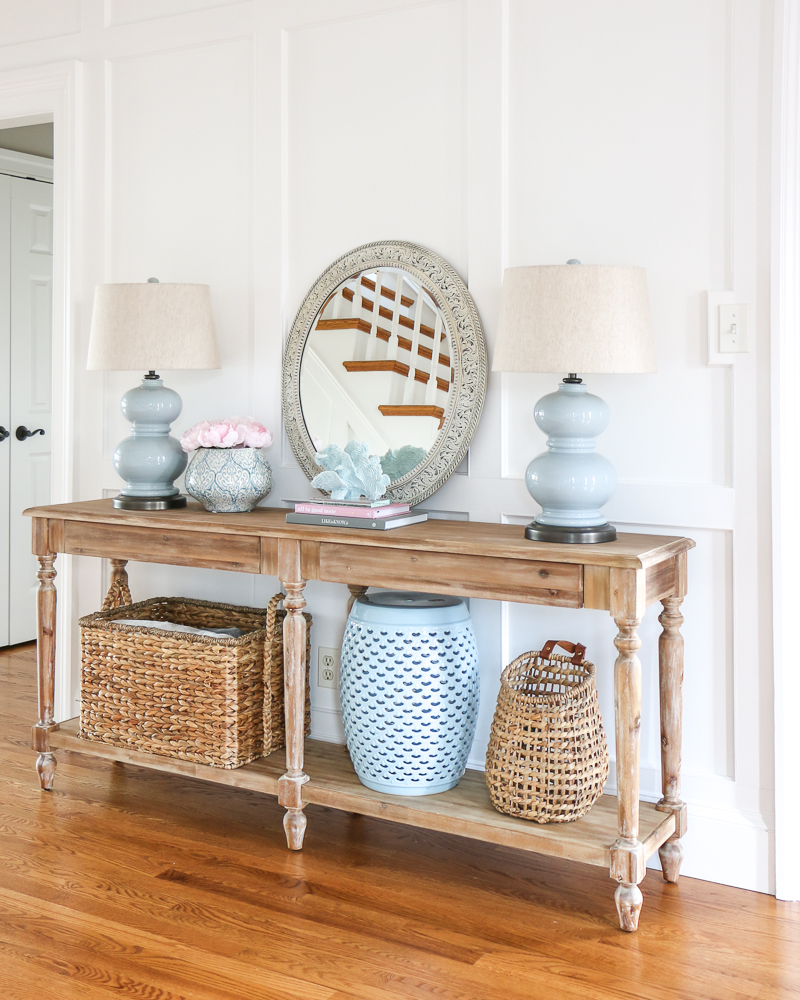 I personally prefer the more minimal vintage inspired look. Even though there is a shelf on the bottom, I like leaving it empty which makes the design look more light and elevated.
Shop The Post