How To Tile Over Brick Fireplace Surround
Disclosure: This post may contain affiliate links. As an Amazon Associate, I earn from qualifying purchases at no additional cost to you.
If you are looking for how to tile over brick fireplace, you're in the right spot! I started thinking about tackling the fireplace surround while I was still working on my previous DIY project. (Check out my Entryway Molding post.) And as I was finishing up the fireplace, I was planning on doing builtins around it some time in the future. Read on for how I did this fireplace surround makeover. Or scroll all the way down for a "Before and After" pic!

The Fireplace Before
I've never liked my old fireplace surround. There was nothing really wrong with it, other than it' wasn't quite my style. It had a very traditional trim and bright red bricks that match the exterior of our house. (I'm not a fan of those either but that's a story for another time).
Redoing the fireplace was among many other things on my list. I would have liked to get to it eventually and probably hire a professional to do it. However, I tasted the liberating possibility that comes with owning a saw and a nail gun. The bug got into my head that I could attempt to do it myself.
Simple Materials Guide
Get this FREE GUIDE to different types of trim and molding materials for your every DIY need – from wall molding to cabinetry!
Then the inevitable was precipitated by the purchase of a new TV. The new one was slightly larger than the old one, which left me hating the large TV and the small (in comparison) fireplace surround. So one Monday a couple of weeks ago, my husband came home to this scene:
Break It Down, Build It Up
I had stared at that hateful fireplace long enough, so I just took a hammer and a screwdriver to it. I removed the outer trim pieces as well as the dentil and crown molding that you see still attached in the above photo. The only thing that was left was the big flat board attached to the wall and the top flat mantel board.
What followed was a trip to Home Depot to purchase a table saw and a sheet of plywood. I ripped the sheet down to create the boxes that make up the two columns and the flat horizontal piece in the middle. I used a 2×4 cut to blocks that I attached to the existing wood board and create a base for the outer boards.
So in other words, because I kept the existing big board and mantel, I didn't have to worry about securing anything to the wall. I just secured the plywood panels to that existing board.
Trim
The rest was the "easy" simple part – adding trim to the outside to make it look pretty. I was really nervous about the crow molding because I didn't think I could do it. I had tried a number of times in the past to cut crown molding but couldn't wrap my mind around it. Until I found this handy visual cheat sheet:
Conquering crown molding is probably one of the proudest moments of my life. I feel like I can do anything now!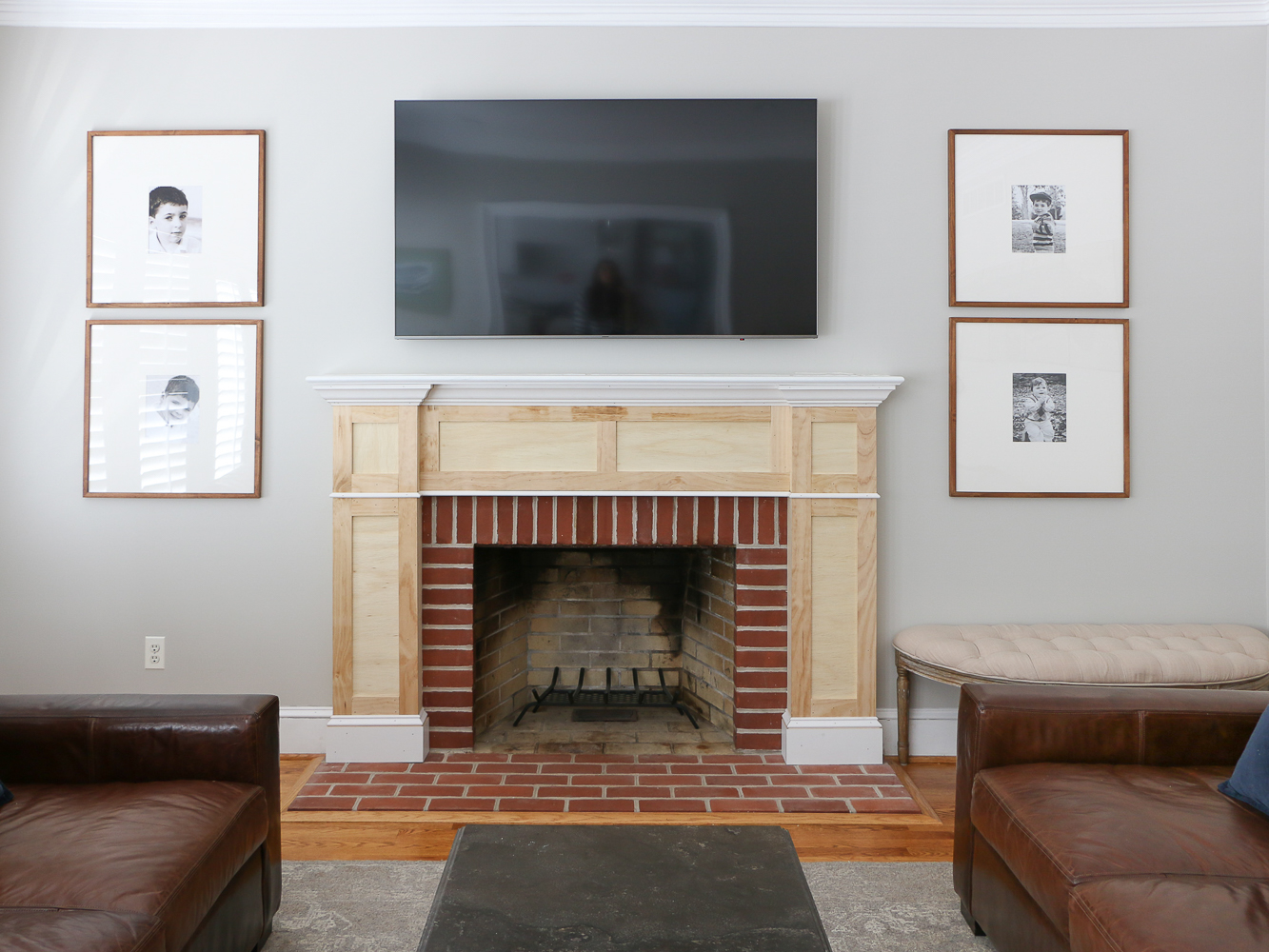 I could have just left things here and painted the surround (after filling with wood filler, sanding, and caulking, of course). It would have looked great! The large TV (I still hate it – it's destined for the finished basement one day) already looked more proportionate. But I knew after all this hard work I would still have been unsatisfied. The brick is great, it's classic, and some people might even prefer it to anything else. But I was looking for a more current updated look with cool tones that related better to my recently remodeled kitchen. I knew I had to cover that brick with marble.
Prep for tile over brick fireplace
I will spare you the pain of research, asking questions and spending hours in Home Depot to figure out the right way to tile over brick fireplace. Brick is uneven and you can't just slap tiles over it. You have to add a layer of cement board to create a level surface. I couldn't attach the cement board with screws to the brick so I used thinset and then tiled over that once it set. Cement board is easy to cut – you just score with a utility knife and break off.
It may look like I'm just casually spreading thinset over the cement board. Next thing you know, I have tile laid and the project complete. In fact, there were many days and headaches between those two pictures. Laying and cutting the large 12×12 marble tiles on the floor was relatively easy. However, the herringbone mosaic (I used 12×12 Grecian white) was an absolute nightmare! Marble is a very brittle material. When you try to cut an already small piece into an even smaller piece, it just disintegrates! I dealt with tiles not sticking and being loose for two days. Pop off, glue back on over and over – before I was able to grout. Thankfully, grout covers most imperfections! (My grout is non-sanded Polyblend in Snow White.)
There are imperfections that I know only I can see (or a very trained eye) and to most others, it looks amazing. I made mistakes but I learned from them too. Next time, I will be almost perfect! After all, this was my first time tiling (other than when I observed contractors tile my backsplash and asked them to show me how) and this was a challenging type of tile to work with, even for a pro.
Fireplace surround makeover – the reveal
And here is the finished product! I love the cool updated tones. I still don't like the large TV and the leather sofas for this space. Those were originally meant to be in the basement when they were first purchased for our previous house. One day, when we finish this basement, they will go down there and I will get more feminine looking fabric upholstered sofas. And a smaller TV.
I also think I want to add built-ins around the fireplace. I'm still researching it and still trying to decide if I can take this on as my next DIY. I will keep you posted!