Revealing My Dream Kitchen Remodel
Disclosure: This post may contain affiliate links. As an Amazon Associate, I earn from qualifying purchases at no additional cost to you.
My dream kitchen is finally finished and ready to be shown off to the world!
I feel like this kitchen is my fourth child. It probably took as long to plan and carry out the project as it takes to bring a child into this world. And it hasn't been without its labor pains, either! I started the initial planning and interviewing contractors back in February and it wasn't fully finished till mid-September.
The kitchen "before"
I have been pining over white kitchens on Pinterest and Instagram for years. We moved into our house four and half years ago and the kitchen was definitely nice and decent so a remodel wasn't necessary at least immediately. Some (my husband) might say a remodel wasn't necessary at all. The cabinets were good quality, medium stain cherry. It had granite and a big island. Here are some "before" pictures:
It wasn't terrible but it wasn't my style either. I just wanted a dream white kitchen to enjoy before I die, please … or at least before we were empty nesters and had to downsize. I firmly believe in doing home improvements for the sake of enjoying them and not with only the thought of resale and return on investment. You're investing in years of joy and happiness. There's no price tag on that! (Well, there is, hubby can tell you what that is!)
Dream kitchen planning phase
I have been dreaming of a white kitchen ever since white kitchens were a thing – probably before I remodeled the kitchen in my old house 10 years ago. Back then, I went with dark stained cherry cabinets – what was I thinking?! What I was thinking was that I wanted a dramatic change from the builder-grade white-washed laminate cabinets, and I regretted it pretty soon after.
I will get into the details now if I haven't lost you already with all my rambling. I will mention the major aspects and sources of my dream kitchen here in this post but will link to posts where I will describe and explain my choices in further detail for those who may be interested.
Cabinets: Decora Cabinetry, Prescott inset style
I went for inset style cabinet doors with a simple shaker design. Inset style doors have a custom look but mine didn't come at a custom price. For more on that, read my post on Inset Style Kitchen Cabinets here.
Countertops – Carrara marble
A gorgeous classic look that is not exactly carefree. I agonized over making this choice but in the end, decided to go with what my heart wanted and that nothing else could replicate. Read about the marble countertop decision-making process. Find out how I keep my countertops clutter-free.
Appliances

The stove and microwave are both GE and were existing. They were fairly new as we had replaced them shortly after moving into the house. The refrigerator is KitchenAid, bottom freezer with only one door. I have never liked french door refrigerators – I find it annoying to have to open two doors to get to the contents of the fridge. This fridge is slightly smaller than our old one but we really don't miss the extra space. We don't tend to stock up on groceries and we kept the old fridge in the garage just in case (there's only water and beer in there, haha).
We didn't have the budget for professional-grade appliances like Wolf or Subzero but the GE Cafe line as well as the Kitchen Aid fridge we picked have some of the elements of those more expensive appliances – flat doors and squared handles.
A microwave drawer was not a priority for me but it was the only option I had when designing the cabinet layout. It's a Sharp model with a more streamlined front panel and it replaced the old over-the-range microwave. We went for a vent hood over the range instead.
Flooring
We kept our existing oak hardwood floors which run throughout the first level of our house. We had to have them refinished but the guys were able to blend them seamlessly at the doorways to the adjoining rooms so the sanding and staining were contained to the kitchen.
Lighting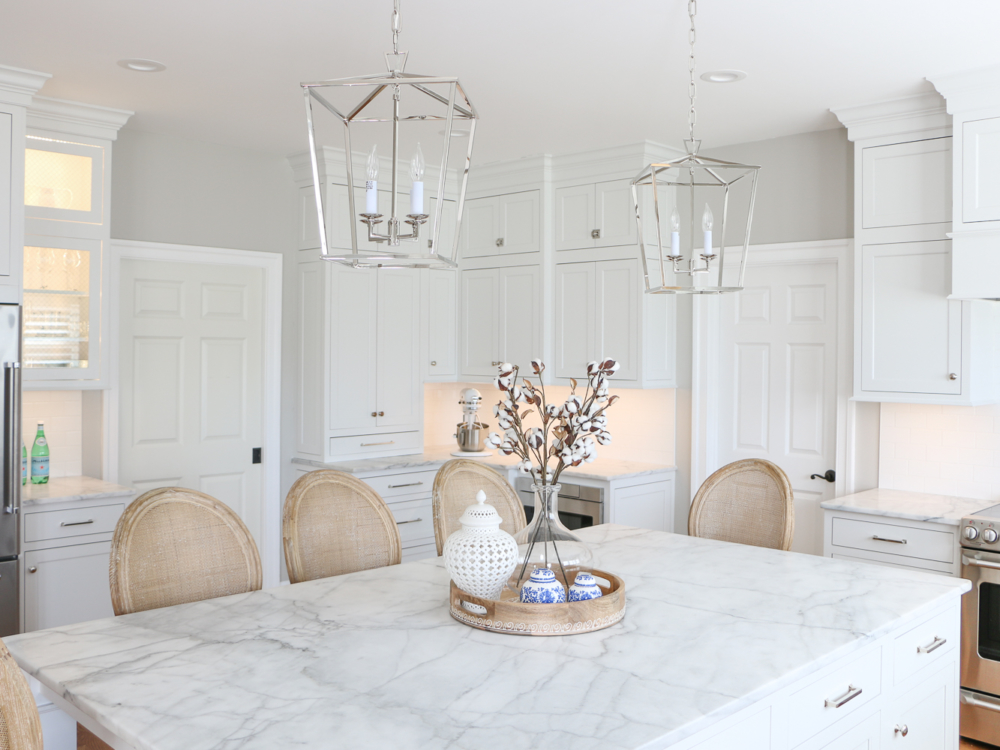 I knew exactly what I wanted in terms of my kitchen lighting design. Deciding on the metal finish wasn't so easy but I went with nickel as a classic and safe choice. Brass is extremely popular right now and my light fixtures were available in that finish but I was just too unsure of the longevity of that trend.
I made sure to include under-cabinet lights as well as lights inside the glass door cabinets. Those may not be significant light sources in an already well-lit space but they contribute to creating a cozy mood. All of my lights are dimmable. It's incredible what a difference the right light makes – whether it's natural or from a bulb!
Hardware

Once I decided on the cool tone finish for the lighting, I knew I would carry it over to the hardware. I wanted to vary the type of hardware so I went with latches for the topmost stacked cabinets (and the sink cabinet), knobs for the doors, and pulls for the drawers. I love the way the light reflects off of the shiny nickel finish!

The sink was an easy decision. I've wanted a farmhouse sink since I laid eyes on one years ago and that's what I was getting even if everyone else has one. The faucet, on the other hand, kept me awake at night. It was definitely a splurge but I was able to save money elsewhere and still stayed within budget.
Backsplash

I like simple and classic and subway tile is that for me. I considered marble subway tile but it would have been very hard and expensive to find one that matched my countertops. Anything else would have clashed with the counters and taken the attention away from them. And that's why I also went with white grout. Because it's classic and because I wanted the backsplash to be a neutral backdrop. A dark grout would have created a more busy background.
You might have noticed that I have no outlets on my backsplash walls. The outlets are there but they're hidden on the bottom of the wall cabinets. They are these thin strips of that get mounted there out of sight and allow for a beautiful uninterrupted backsplash.
Decor Items And Counter Stools
As you can see, there's a lot of white in my dream kitchen. I wanted to bring in some warmth and texture by using natural wood tones for the counter stools and decor.