How To Update A Classic White Kitchen
Disclosure: This post may contain affiliate links. As an Amazon Associate, I earn from qualifying purchases at no additional cost to you.
Classic white kitchen
The classic white kitchen in my current home is the second kitchen remodel I have ever done. In my previous home, I installed a medium-tone cherry kitchen in the early 2000s and immediately regretted it. It was right before white kitchens became incredibly popular.
By the time I was updating this kitchen ten years later (2018), I knew the days of the white kitchen craze were numbered but I didn't care. I had to have my all-white kitchen once in my life and get it out of my system.
A classic white kitchen may not always be trendy but it will never be out of style!
Faucet | Cabinet latch | Drawer pulls | Runner
Has your taste in design styles changed over the years? Mine sure has! One of the benefits of having a classic white kitchen is the ability to make simple changes that completely change the look and feel of the space.
The big-budget items in my kitchen are the white inset cabinets and the honed marble countertops. Design elements that will not be changed in the foreseeable future need to be timeless.
Over time, my dream white kitchen went from having a coastal vibe with French country accents to a warm mix of vintage and modern. I'm sharing all the ways I updated my classic white kitchen by adding color and texture.
Window treatments
The back of my home gets quite a bit of afternoon sunlight and there were times I could've worn sunglass while doing dishes. The white interior window shutters I installed are an excellent way to block direct sunlight while allowing natural light in. All with the simple adjustment of the louvers.
As I've mentioned in a previous article, interior shutters can be used alone or layered, and lend themselves to any design style. I updated the living room windows by layering Amazon's famous pinch-pleat drapes over the shutters.
Pendants | Sconces | Drawer pulls | Cabinet knobs | Cabinet latches | Soap dispensers | Cutting board | Faucet | Runner | Woven tray (similar)
However, the kitchen windows are smaller so an additional window treatment didn't make sense. The best solution to add texture and still have some control over the light situation was to add a custom woven shade from Willow Bloom Home in Lea Desert. It is easy to adjust and the natural variations in color were exactly what I was looking for.
Faucet | Cutting board | Sconces | Knobs | Pulls | Latches
Lighting – pendants and sconces
My original kitchen lighting design plan included what I thought was the safest finish at the time. Lantern-style pendants were going over the island, but I was worried brass was too trendy so I went with polished nickel. After all, the silver look paired with a classic white kitchen gave the crisp and clean vibe I was going for.
Fast forward a couple of years and I was ready to add a little contrast by swapping the lanterns out for the popular linen conical drum shade pendants. They're a little more casual, but I was thrilled with the impact they had in that space.
Pendants | Counter stools | Runner
The most recent lighting changes have been my favorite! I chose the large Piatto pendants for over the island and love how they affect the whole look of my kitchen. The black adds contrast and the brass creates a beautiful warm glow when the lights are turned on. The unique design makes a statement without being vertically distracting.
I had no choice but to replace the aged pewter sconces over the sink at this point. The style was the best for over my sink, so I simply swapped them for a different finish…brass! Don't they look beautiful with the brass cabinet hardware?
Sconces | Brass pulls | Brass knobs | Brass latches | Faucet | Runner
Here are a few other options you can use in your kitchen:
Counter stools for your white kitchen
The first counter stools I had around the island were a cane back King Louis style in a whitewashed finish. The French country-inspired style was perfect for my classic white kitchen design plans.
Counter stools are available in a variety of price points so you can usually find a similar one if you've fallen in love with a particular style out of your budget.
Counter stools (similar) | Pendants | Woven tray (similar)
In order to add some more color and texture I went with Serena and Lily Balboa counter stools. The tone of the rattan-wrapped mahogany frame was a warm change that is visible from the adjoining living room and dining room. The brass end caps on the legs are an unexpected detail that adds to their beauty.
Counter stools | Pendants | Vase | Knobs | Pulls | Latches | Runner
If you have an open-concept home and want to find the best seating for your kitchen and dining area, check out my post that explains when it's okay to use matching chairs and stools and when you should mix things up.
Area rug or runner
Adding or changing your kitchen rug is a great way to bring color into your classic white kitchen. No need to take drastic steps like painting cabinets or walls. If you have enough space you can use a small area rug. Do you have a kitchen layout similar to mine? Add a kitchen runner in front of the sink!
The possibilities are endless when it comes to the colors, patterns, and sizes of runners. I recommend finding a pattern with muted tones to make a subtle change. (Read my post on Coordinating Rugs.) Bold colors and patterns will certainly make a statement but may be a bit too distracting. Runners are relatively inexpensive, making them easy to replace when they show wear.
The kitchen sink is a high-traffic area so be sure to add a rug pad or rug tape to keep it in place.
Hardware – cabinets and drawers
Hardware is just a small part of the decor in the kitchen, but it has a big influence on style. Give your classic white kitchen a modern farmhouse look by switching to matte black hardware. Do you like French country or coastal designs? Elegant polished nickel pieces will add some shine.
Drawer pulls | Cabinet knobs | Door latches | Drawer microwave
I recently made the switch to unlacquered brass cabinet hardware in my kitchen and other rooms in my home. Read all about the different styles and finishes I use in my cabinet hardware post! It really warms up the room and looks so beautiful with the new pendants and brass sconces.
Drawer pulls | Cabinet knobs | Door Latches
Have you seen the metal door inserts I added to a few cabinet doors? I removed the glass and added the warm gold-toned metal and what a difference! If you want to give it a try, check out my tutorial!
Drawer pulls | Door latch | Cabinet knobs | Pendants | Counter stools | Sconces
Countertop decor
By far, the easiest way to change up a space is by swapping out decor items. My kitchen island goes through the most updates, usually for the seasons. Add a few winter stems for the holidays or place fruit in a bowl or basket for the warmer months. I use a mix of real and faux florals throughout the year!
Do you have cookbooks hidden away? Pull one out and put it on display! Other examples of decor I use year-round are wooden cutting boards and vintage-looking brass salt and pepper mills. Add a small lamp, greenery, and some artwork that complement your personal style!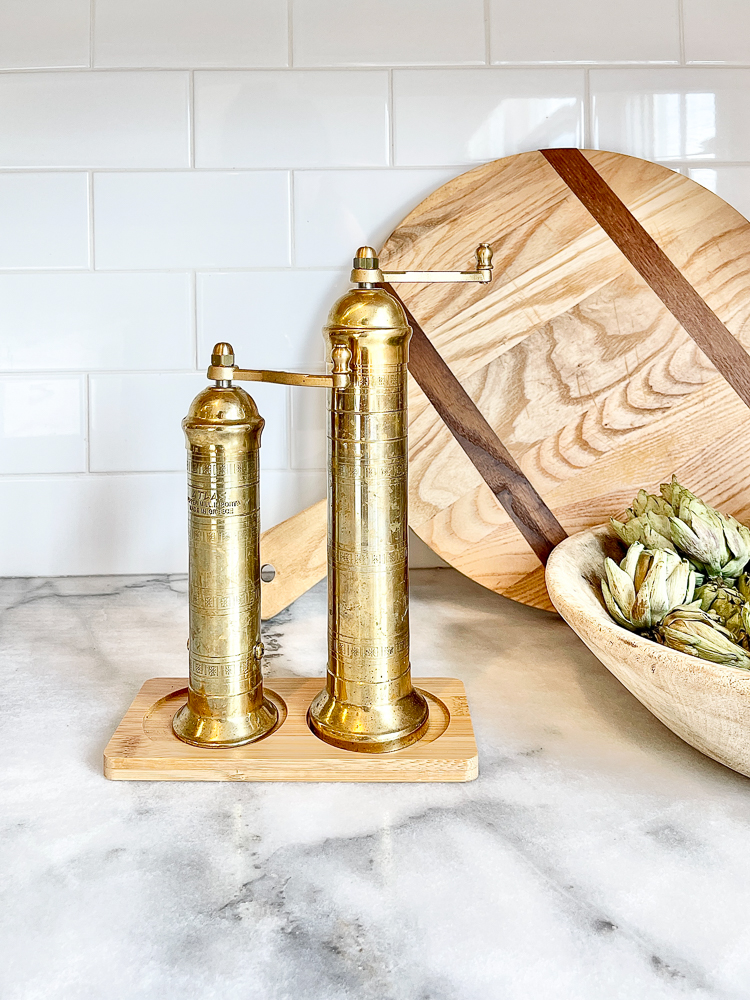 Would I choose a classic white kitchen again?
Absolutely! Though my tastes have changed I will always love a classic white kitchen. That doesn't mean I don't admire some of the bold design trends we see from the top designers.
As a lover of interior design and fashion trends, I will always keep an eye on the latest curations and keep a running list of favorites. You don't have to change everything in your kitchen to keep up with the latest thing. Find ways to work in some design trends if you really love them!
What would I change in my kitchen?
Well, now that you mention it…one thing I would do differently would be to continue the marble slab up the wall as a backsplash. Unfortunately, the installer was not able to do it at the time so I chose the white tile you see today. Sure, I can update the backsplash in the future, but white tile is always a classic selection and I am glad I chose it for my bright and beautiful classic white kitchen.
We have plenty of cabinet space so I'd probably leave room for some open shelving as well. I love the ability to make big changes with little adjustments. Check out my fool-proof shelf styling tips to learn how to display all your pretty things!