How to Style Shelves – Builtins Progress Pics
Disclosure: This post may contain affiliate links. As an Amazon Associate, I earn from qualifying purchases at no additional cost to you.
How to style shelves – my simple rules
You've seen the reveal of the DIY builtin project I completed and I've been sharing pictures of my decorated shelves on Instagram. Next, I'm going to share how to style shelves like the pros! My easy-to-follow rules will help you create a display worthy of magazine pages with decor items you probably already have.
Storage boxes | Cabinet knobs | Drawer pulls | Drapes | Picture light
Of course, these rules are not set in stone. They are guidelines I like to follow but after all, this is a creative and subjective process. I'm sure every interior designer changes their shelf decor around a lot. It keeps things fresh and prevents dust from settling on shelves.
Scale
My first design tip when it comes to learning how to style shelves, or any decor for that matter, is to go big! I choose a few oversized objects instead of multiple small ones. Big items make a statement, too many small ones make your display look cluttered and distracting.
Some of my favorite oversized items to use are decorative storage boxes. You can stack them together or place other pieces on top. It's easy to find a set that matches your decor style and the color scheme of your space. I absolutely love my cane boxes because they anchor the space and look great with everything. They add a natural element to my bookshelves in the living room and upstairs on my loft space builtins too!
A good-sized artisan vase is another thing that should already be in your arsenal of decorative objects. I recommend having a few different sizes and shapes on hand that can be rotated through different locations.
Do you have some small wall art laying around? Place a frame or two in the back of a shelf to fill in empty space. It can be a family photograph or landscape art, just as long as it coordinates with the rest of the items. No need to put a nail in the wall; simply prop them up! If you're having trouble keeping them in place, use a small heavy item at the base to keep it from toppling over.
Repetition and consistency
These refer to the color of the objects I choose to display. To keep things looking uniform, I pick two or three hues and repeat them throughout the display. Most of the time, I choose a couple of neutral tones for the season and use natural wood tones to balance them out. After the builtins were done I started with light blue/aqua (it wasn't my favorite), switched to dark blue throughout summer, then to black in the fall. It has been everything in between since then.
In the images below, you can see how the items I use to style my shelves coordinate with the rest of the furniture and decor in the room. Items similar in color are placed diagonally on the shelves. Brass pieces are not vertically lined up and neither are the woven boxes and baskets.
Did you notice the color of the vases in the left image can be seen again in the throw pillows and the rug? Or the brass-tones of the right image are also on the lamp and picture light above the shelves? The patterns and materials are different, but they create a naturally cohesive feel.
Balance
I like to alternate the size of the objects, their shape, and how they are displayed on the horizontal and vertical planes of the space. For example, I will put a large object in the back something a little smaller slightly in front and to one side. If you place same-sized items together you will lack dimension and your shelves will not be visually interesting.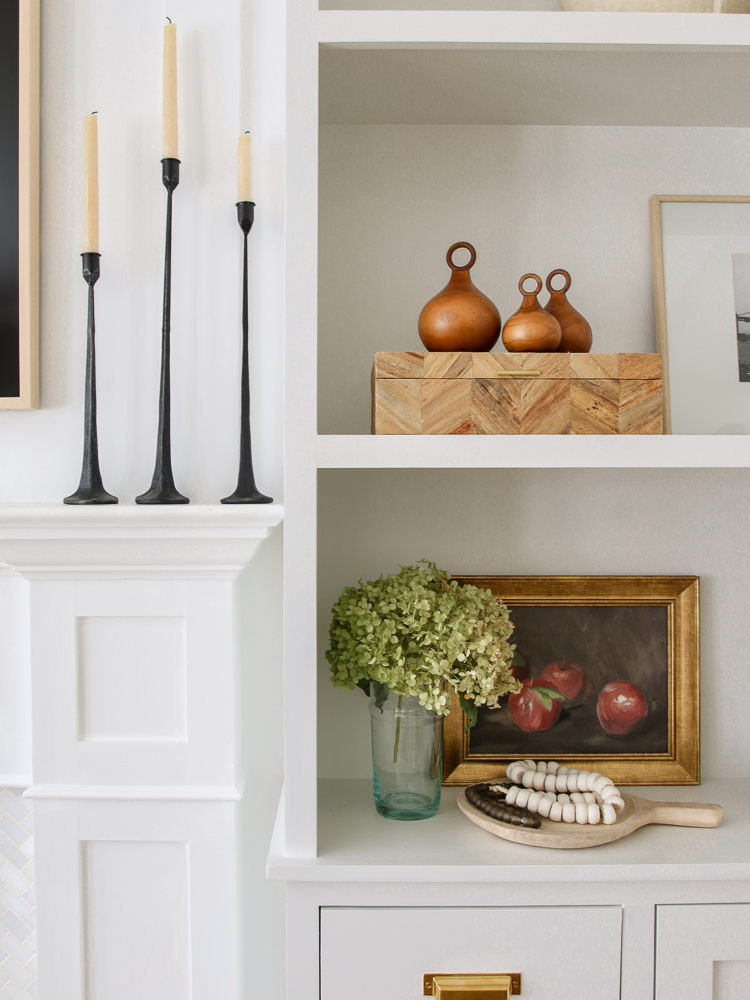 In the image above, you can see how I used several different sizes, shapes, and colors. This is an example of a visually pleasing display that has dimension and texture.
Groupings
Have you been to someone's home and seen a continuous line of objects on their shelves? It almost feels like you are shopping at a retail store vs. seeing things that tell a story. Instead, create little groupings of different objects and leave space between them.
Here are some other ideas for how to style shelves with groupings:
Stack faux greenery or dried flowers on top of some books
Place a group of two or three pieces of pottery in varying sizes and textures together
Use storage boxes on the bottom shelf and some smaller coordinating pieces in the opposite corner
Take a tour around your home and find some of your favorite things. Use these shelf styling tips to create a display that shows off the color palette of your home and your unique style!
Can you tell which season it is based on the items on my shelves? This is the perfect place to spread holiday cheer or brighten things up at the first sign of warm weather. The possibilities are endless!
My shelf designs over the years
Here is what my shelves looked like in the beginning. I used a few black accents to complement the dark leather sofas that are now in my dark and moody basement. I used the same guidelines to group my decor items together then as I do now!
Before:
I slowly changed over to more muted tones and added softer textures to this space. By adding light-colored velvet sofas and boucle chairs along with coordinating shelf decor, this room took on a warm and cozy feel. See how I made similar updates in my white kitchen here!
After:
Velvet sofa | Boucle chairs | Rug | Candle holders | Frame TV
Shuffling around small decor items is an easy way to keep up with your ever-changing tastes. Maybe you used to have a modern bookshelf display or you have always had a minimalist decor philosophy. Take some time to move your stuff around to see where it looks and feels the best!
Someone with zero interior design knowledge can tell you that a well-styled space looks beautiful, even if they can't tell you why. Use these tips for styling open shelves in your living room or any other space in your home!
Looking for the perfect home decor gift for the decorator in your life? You can read all about my top five gift ideas here!