Boucle Chair Review and Should You Buy One
Disclosure: This post may contain affiliate links. As an Amazon Associate, I earn from qualifying purchases at no additional cost to you.
Is a boucle chair classic or trendy?
Are you considering buying a boucle chair and wondering if it is a good investment? Boucle furniture, in general, has become quite popular in the last couple of years. While the boucle fabric has been around for many decades – since the middle of the 20th century – its surge in popularity lately calls into question the design longevity. When you see something over and over again, are you bound to be sick of it soon? Will this be a trend that will date your home 5 years from now or is it here to stay?
Chair | Drapes | Drape rod | Drape rings | Lamp (similar) | Pedestal (similar) | Vase
Boucle (pronounced boo-CLAY) fabric was first used on an accent chair but later also gained popularity in fashion. You may have heard of the famous Coco Chanel boucle jacket. One thing that a boucle chair has going for it is that it is not a new design item. If something has been around for 70 years, it is likely not a trend but rather a classic. A classic item may not always be trendy but it will also never be dated.
Whether the boucle chair you choose will be a classic or trendy piece will depend greatly on the style of the chair and the quality of the materials.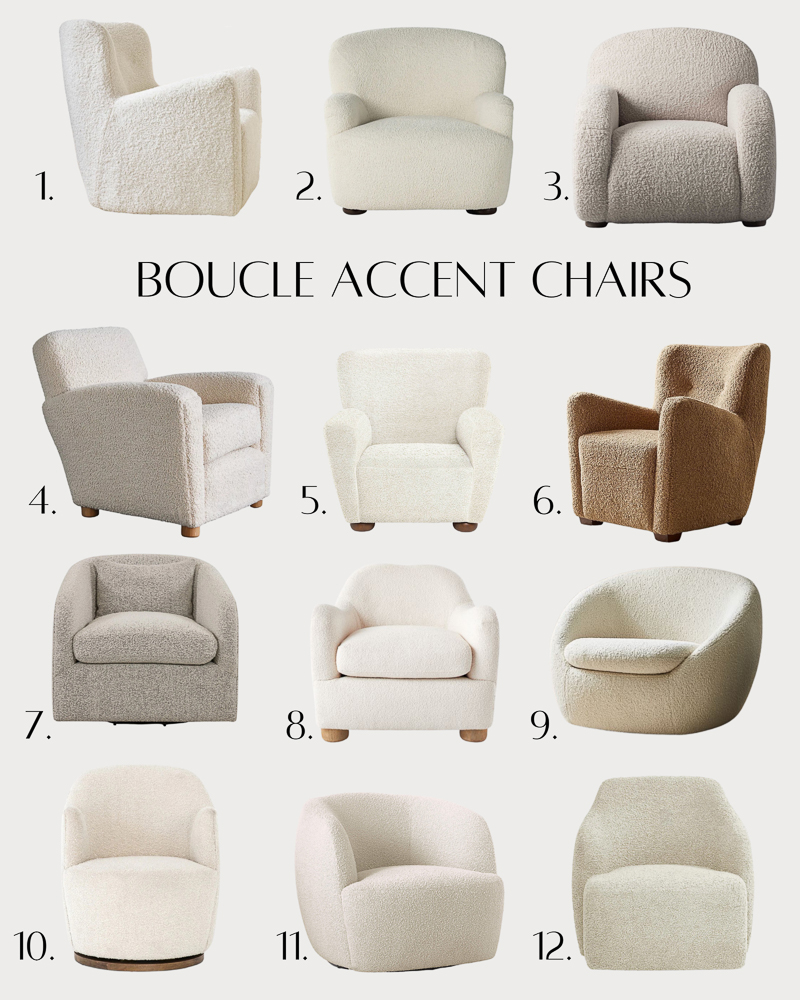 1 | 2 | 3 | 4 | 5 | 6 | 7 | 8 | 9 | 10 | 11 | 12
What is the difference between boucle, sherpa, fleece, and tweed?
First, let's look at the terminology of this fabric family so that you can make an informed decision about the particular boucle chair you are considering:
Boucle – is usually made with a blend of synthetic and natural fibers. It has small loops or curls of varying piles that make the little nubs that give boucle its beautiful texture. Falling somewhere between sherpa and linen it is soft to the touch making it a great choice for clothing and furniture.
Sherpa – is a curly pile fabric that is made with synthetic yarns. It is soft, fluffy, and mainly used to line clothing. It has a higher pile than boucle so a sherpa may seem a bit softer. It was designed to resemble wool and is a less expensive, animal-friendly alternative to shearling. Sherpa fabric is named after the shearling clothing worn by the Sherpa people of Nepal who layered up for the cold mountainous regions of Tibet. So, you guessed it, sherpa will keep you warm!
Shearling – is made from the skin of a sheep or lamb right after it has been shorn (the shearing process). Tanned and dressed with the wool still on, it is smoother than sherpa and has an underside that feels like suede. It has natural antimicrobial properties and is extremely warm.
Fleece – is made predominantly from polyester or other synthetic fibers. Items made with fleece are cozy because the material is lightweight and super soft. However, fleece can't block the wind and is relatively thin so it isn't the best option for really cold weather. Instead, use it for layering or a cozy lightweight blanket when you need a little extra something.
Tweed – is a low-pile woolen fabric that has varying color threads tightly woven into patterns. You've undoubtedly seen the classic herringbone, small squares, and vertical lines commonly used to make tweed clothing. It's been around for a long time as a staple in clothing fabric due to its durability and ability to keep you warm.
Although these terms can be quite different you'll often see them used interchangeably by retailers for both clothing and furniture.
Is boucle fabric durable and kid-friendly?
Furniture design decisions for your home take time. Make sure to do your research so you find something that ticks all the right boxes. Whether an interior designer is working on your lake house in the mountains or you simply need to replace a worn-out chair. Aesthetics aside, durability and kid-friendliness are always high on the list.
Unlike its smoother counterparts (linen or cotton blends), nubby boucle chair upholstery gives even the lightest colored furniture some texture. Subtle yarn variations also add dimension which tends to hide dirt. The loops of yarn are short preventing it from becoming matted and worn-looking as quickly as longer fibers of sherpa or shearling.
I have previously shared helpful ways to prevent stains and how to maintain and clean upholstered furniture. All the tips apply to a boucle chair and other furniture as well! My kids are a little older now, but do they still love goldfish crackers? Frequent vacuuming really makes a difference with the nubby boucle fabric. You might not see the crumbs, but you can feel them! I always recommend considering the type of fibers used in your furniture before you deep clean. Is it completely synthetic or does it have a larger amount of natural wool fibers blended in?
Is a boucle chair worth the cost?
Speaking of fibers…this can affect the cost of furniture. Natural wool yarn is more expensive than synthetic alternatives. Let's say you find two identical-looking boucle chairs and the only obvious difference is the price tag. Check out the product information and you'll likely find higher-quality materials listed in the description. If you look closely (or if you could see under the boucle fabric) you'll also notice higher-quality wood used for legs, better foam for cushions, and more durable stitching techniques that keep it all together.
In general, boucle fabric is more expensive than other common upholstery options. If you found a customizable piece of furniture you'll notice the price changes with fabric selections. Are you wondering if a boucle chair is worth the cost? Or if boucle is hot now but won't be on-trend after a few months? My answer is YES! We've already established that boucle chair upholstery is durable and has been around for a long time. If you love the curves and the cozy look but are hesitant to make the leap, start small! Add a boucle bench to your entryway or style a boucle pillow or a throw blanket on your sofa.
Boucle furniture in my home
Mixing furniture gives your home that designer look. I have several boucle pieces in my home to complement the existing furniture and give each room that extra little "something". My living room is light and airy but filled with furniture and styled with decor to add depth and interest. Here I added a pair of white curved boucle chairs to contrast the rectangular sofas and coffee table. They have a low profile and no sharp edges which makes them the perfect pieces for the space leading in from my kitchen to my living room.
Chairs | Side table | Sofas | Coffee table | Ottomans | Rug | Frame tv | Candle holders | Cane boxes | Picture lamps
We finished the basement not long ago and much of the space has my favorite white paint on the walls. I wanted to do something a bit different in the media room area so I went moody and modern with a bold black! The leather sofas and sleek brass fixtures gave the space a rich and luxurious feel so down here the light boucle chairs have a completely different design purpose. They still give that warm and cozy vibe, but the contrast in color helps the black-and-white spaces blend together seamlessly.
Chair | Sconce | Wall art | Cane cabinet | LVP floor
Earlier I mentioned starting with a boucle bench. What a versatile piece! My bench currently lives in my entry hallway and is the perfect neutral piece you can easily style for every season. I initially got it when my primary bathroom and closet renovations were finished. While it looked beautiful with the hand-knotted rug and the wallpaper, I discovered a different purpose for that space that works for me!
Bench | Marble tile | Rug (similar) | Wallpaper
Swivel vs static
This may or may not be an important feature for you when hunting for a boucle chair. However, it is something that you need to think about when designing your space. I mentioned above that I liked the curves of the chairs I selected for my living room. Placed in a high-traffic area between my kitchen and living room, I didn't want to put something with hard edges there that we'd constantly be bumping into, later wondering where the bruises came from! Because we brush them as we pass by, I also wanted something there that was static. We already spend enough time fluffing cushions and straightening pillows. Don't get swivel chairs for high-traffic areas unless you don't mind constantly turning them back to face the right direction!
The basement boucle chairs are a different story. Down here, I placed them in a spot no one walks behind often so having a swivel feature wouldn't have the same impact on my sanity as it would in the living room.
Chairs | Rug | Sconces | Cane cabinet | Wall art | LVP floor
Boucle isn't going anywhere! You don't need to have a bunch of boucle pieces to make an impact in your home. Just make purposeful selections for your space and you'll be happy for years to come!
Psst! For those of you wondering how I hung my drapes: