LVP Floors – Are They A Good Choice
Disclosure: This post may contain affiliate links. As an Amazon Associate, I earn from qualifying purchases at no additional cost to you.
LVP floors provided by ProCore. All opinions are my own.
Construction in the basement is finally complete and I couldn't wait any longer to show you the pièce de résistance – the beautiful new LVP floors by ProCore. This is also the first time I'm sharing snippets of the rooms. (Check out the Design Board post.) We moved our leather sofas downstairs and are slowly adding decor and furnishings. I wanted to show you the floors in their full beauty before I laid down rugs. Scroll to the end of the post for furnished and styled photos as well as a FAQ section.
LVP for basement installation
When it comes to flooring, there are a few options available for below grade (basement) areas. Carpet is probably the most traditional choice but I am not a fan of wall to wall carpeting anywhere in my house. There is also the ceramic tile route but that surface is cold and unwelcoming, especially in a basement. I love real hardwood floors but they are costly and more complicated to install in a basement without existing subfloor. Not to mention, one must consider the eventuality of water damage in a below grade space.
What is LVP?
There is another option – a novel and very exciting product called LVP (luxury vinyl plank). LVP floor is affordable and durable alternative that mimics the look of real hardwood but is resistant to moisture and wear. It is made from vinyl but don't mistake that for linoleum (as I admit I did at first.) It's a hard material that withstands heavy foot traffic, scratches, and spills, but it has the beautiful look and warmth of hardwood. It is the ideal surface to put in a basement, kitchen, and even bathroom. Because it is waterproof, you could install it in a bathroom area as well.
The LVP floor I chose
I chose the ProCore Pro LVP in Elizabeth Oak, available at Lowes. I wanted a warm medium to light tone floor to go with both the white and black wall paint color. The samples I received showed the wood tone and grain but I was still very anxious to see the floor laid on a large scale in the space. It did not only meet my expectations but highly exceeded them. This is probably the most realistic looking LVP floor I've ever seen. And I'm not just saying that because I picked it. I was nervous about a clear pattern being visible in the layout so I took my time to make sure the planks were mixed as I was laying them down. Which leads me to my next point …
DIY Friendly Installation
LVP Floor is known for being DIY friendly because it doesn't require any special power tools or equipment. To cut the planks, you just score them with a utility knife and snap them. They join together with a tongue and groove system and float above the sub floor. Just tap the edges lightly with a rubber mallet and the sides snap in place.
An average size room will probably only take a couple of hours to complete. Because we were installing the LVP floors over concrete, it was recommended to use a vapor barrier underlayment. Even though the floor itself is waterproof, if moisture were to come up from underground, the underlayment prevents it from getting trapped under the floor and causing mold. If you are laying this floor above grade on a plywood subfloor or old flooring, you don't need the underlayment.
Installation tips
In order to get a realistic look, make sure you start each row with a different size plank from the previous one. This way the joint lines will be staggered as opposed to lining up perfectly like subway tile. Open a couple of boxes at a time and make sure to vary the plank pattern as you lay them down. There are usually a couple of planks with distinct design – usually knots – so avoid laying them close to one another. I also chose a floor with smaller degree of color variation. This ensures a more uniform look once laid, especially in wide open areas like this hallway.
LVP Floors Maintenance and Cleaning
After all the construction there was a good amount of dust on my new floors. I clean them the same way I do my real hardwoods upstairs. Vacuum the large debris first and then mop with water and soap if necessary. I am also taking measures to protect the floors from furniture scratches and have ordered rubber pads for these large heavy sofas. The last thing I want is scratches on these brand new floors. Going for light to medium tone floors helps to camouflage the dirt. Dark floors show every little speck!
My LVP floors with rugs and furniture
When I connected with the ProCore team and was offered the opportunity to partner with them on this project, I wanted to make sure that this flooring is something I would pick myself and be happy to install in my home. There are many LVP options on the market and choosing the right one can feel overwhelming. I recommend narrowing down your selection by style and color and then definitely seeing samples in person.
The ProCore Pro floors are available at Lowes and comes in a variety of color choices. I wanted a medium warm tone wood with no distressing and little color variation. The Elizabeth Oak color fit the bill perfectly.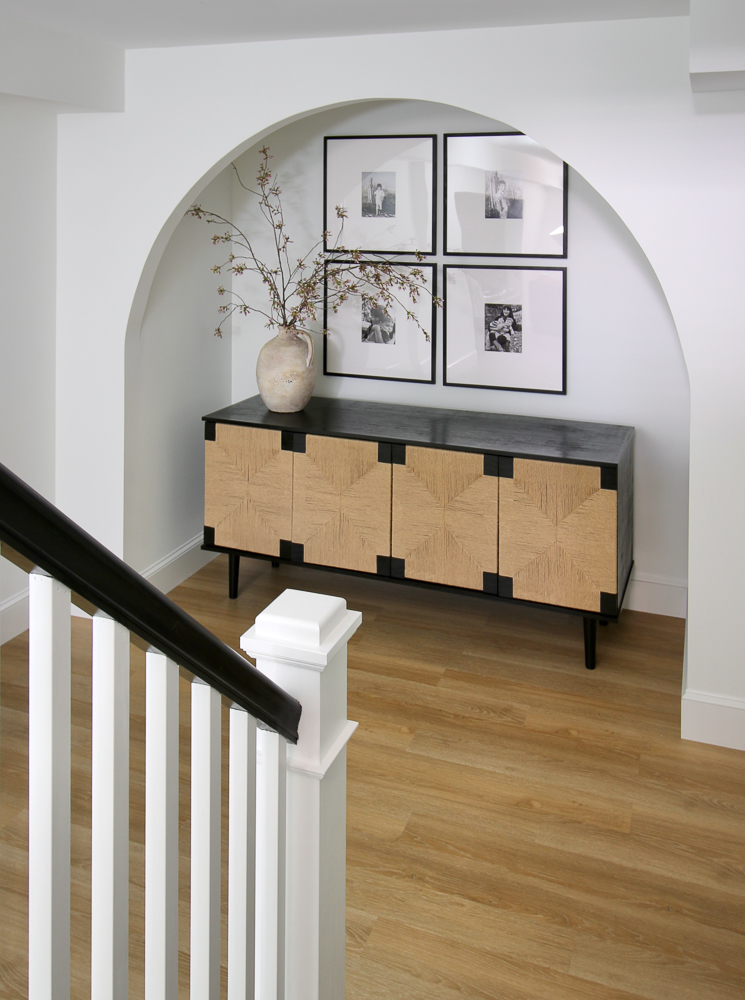 Frequently Asked Questions
Q: Does the subfloor have to perfect
A: The subfloor has to be free of debris and level. We had to pour some self leveling concrete in a spot of our basement because the floor dipped there. If you're installing on a main level, your subfloor is most likely already level. Make sure there are no staples or other debris before you install LVP.
Q: Are they waterproof? Can they be installed in a bathroom?
A: Yes they're waterproof and yes you can install in kitchen and bathroom without a problem.
Q: Can you replace a single board if it gets ruined
A: The boards lock together so you'd have to cut out the board you want remove and when you add the replacement, the only way would be to glue it down.
Q: Can you install over tile
A: Yes, it's a floating floor so you can install over existing floor.
Q: Why lvp over laminate
A: LVP is waterproof and scratch resistant. Laminate is a layer of a digitally printed pattern over MDF in most cases. That makes it definitely not waterproof and also more likely to peel and scratch.
Q: Will moving furniture scratch it
A: Even though LVP is tough and hardwearing, it's not indestructible. Moving a light piece of furniture is probably ok. However, anything heavy or anything with a sharp edge, will damage the floor. I would always take precautions when moving heavy furniture.
Q: Do you need grout?
A: No, the mechanism is tongue and groove and there's no grouting necessary for this type of LVP
Q: Are the edges beveled?
A: It depends on the style of the floor. Beveled edges are totally an aesthetic preference. My LVP floor doesn't have beveled edges but there are some out there that do.
Q: Why can't you install cabinets on top?
A: LVP is not attached to the subfloor and it needs to be allowed to move, contract, and expand. If you permanently attach heavy cabinetry to it with the even heavier countertop on top of it, you will prevent the floor from being able to move and it might end up warping and buckling.
Q: How do you install so that seams aren't lined up
A: In order to achieve a more realistic wood look, you want to randomize both the pattern of the planks and the seams. To do that, make sure you pull planks with random patterns (watch out for identifying marks like knots) and start each row with a different length plank. This will ensure your seams have a realistic random appearance and not a stacked brick wall look.