Modern and Moody Basement Remodel – Design Board
Disclosure: This post may contain affiliate links. As an Amazon Associate, I earn from qualifying purchases at no additional cost to you.
My next home renovation project has been in the planning stages for a few weeks now and we're so excited to get started in January of 2021. We will be hiring out the majority of the work but I have come up with the design and details on my own. Read on for all of the design elements and finish selections of this moody and modern basement.
Layout
Currently the space is completely open and unfinished. As much as this is a blank slate, designing a basement remodel comes with its challenges and limitations.
We had to than carve out storage space which will remain unfinished and also house the heater, water filtration system, and sump pump. We also had to deal with the support posts. You can see them prominently in the drawing below but our contractor suggested that we might be able to move them out of the way. We're consulting with an engineer about that and crossing our fingers it works out.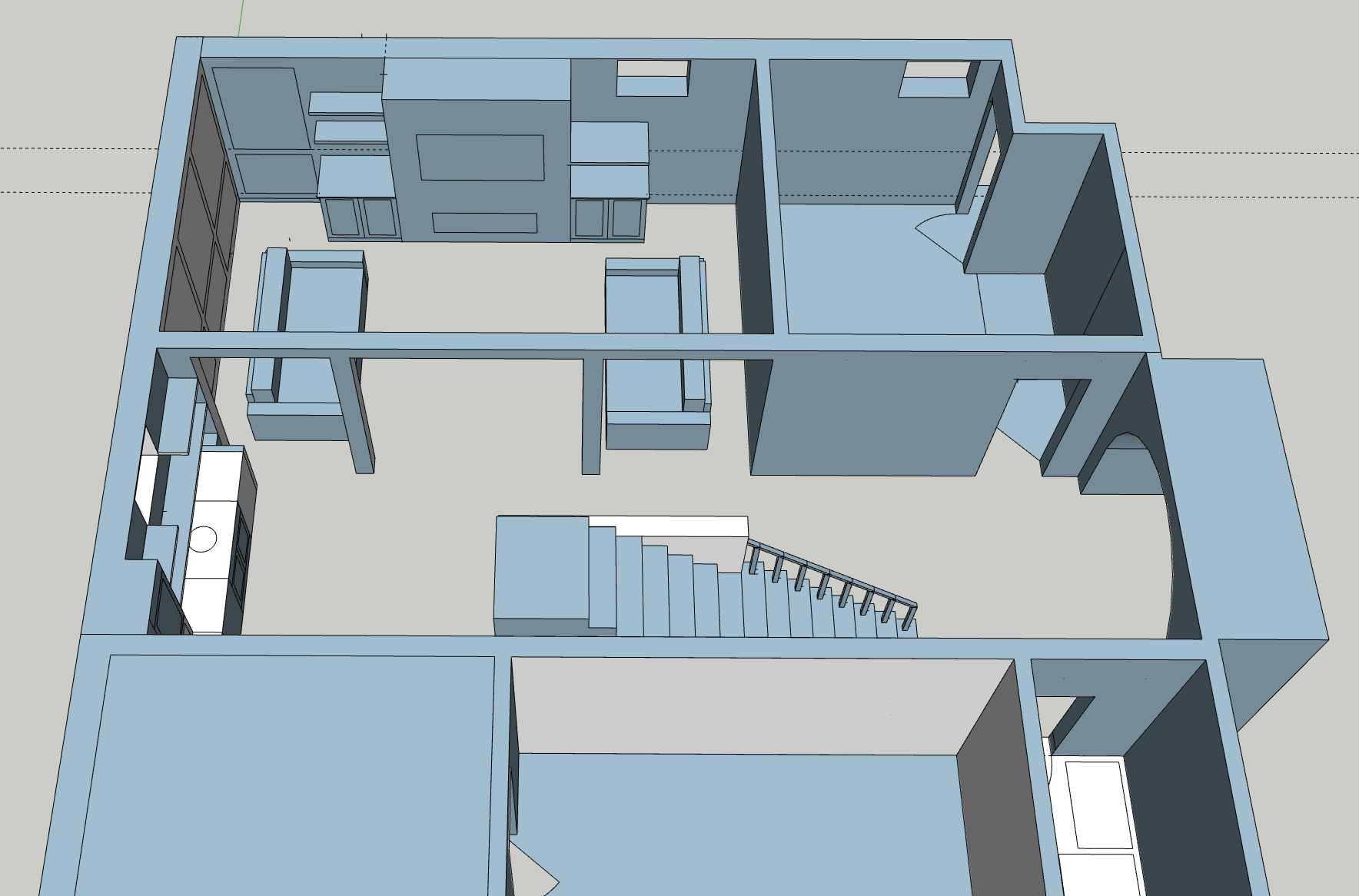 Entertainment area
The entertainment area will very closely mimic the layout of our living room. I finally get to move the leather couches we've owned for years down to the basement where they were always meant to be. The design style of this space will be moody and modern basement – more of a proper man-cave. I even plan to paint the walls and ceilings black.
There will be a TV wall with a fireplace just like upstairs. But this fireplace will be a modern linear electric fireplace from Dimplex. It will be flanked on each side by a set of black cabinets and natural oak finish floating shelves.
Wet Bar Area
The part that my husband is most excited about is the wet bar area. It may not be the big bar with counter stools he had envisioned. But it should have just enough room for cabinet storage, a beverage fridge and a sink with dishwasher. We wanted the space to be functional to how we plan to use it – entertaining friends and family with snacks and drinks. Nobody wants to have to carry plates upstairs to load them in the dishwasher after a night of entertaining.
Bedroom and Bathroom
We have enough space to frame out and finish an extra room. It will have a flexible purpose at first (possibly workout area) but will eventually be furnished as a bedroom. There will also be a full bathroom across the way. (Pssst…want to see how it turned out? Click here!)
Flooring
When it comes to flooring, there are a few options available for a below grade space. Carpet is probably the most popular choice traditionally but I am not a fan of wall to wall carpeting anywhere in my house. There is also the ceramic tile route but that surface is cold and unwelcoming, especially in a basement. I love real hardwood floors but they are costly and more complicated to install in a basement without existing subfloor. Not to mention, one must consider the eventuality of water damage in a below grade space. There is another option – a novel and very exciting product called LVP (luxury vinyl plank). I went with ProCore LVP available at Lowes. Read my review of this flooring in my LVP Floors – Are They a Good Choice post.
Cabinetry And Hardware
I selected simple shaker style cabinets from Yorktowne Cabinetry in black for both the wet bar area and for the builtins by the fireplace. For the countertop, I would like to find a stone similar to my sample above. A black marble maybe but I'm open to granite or quartz with a similar look.
The hardware finishes will be primarily brass although I am bringing in the black element to the bathroom faucets and mirror. The pendant for the wet bar area has both metals present in it.
I am so excited for construction to get started next month and to bring all these design details to life.