The Best Home Decor Gifts Every Decorator Will Love
Disclosure: This post may contain affiliate links. As an Amazon Associate, I earn from qualifying purchases at no additional cost to you.
Who loves decorating?
We all have a friend with a collection of throw pillows that rivals the shelves at Pottery Barn or Target. Countless hours spent stalking their favorite interior designers and chatting about the latest design trends – whether you want to hear it or not. When a special occasion rolls around and you want to find the perfect gift for the design enthusiast in your life, don't stress! My favorite decor gifts are sure to impress. Each one will blend perfectly with any current decor and can be used in so many different ways!
Coffee table | Velvet sofa | Wall art
Home decor gifts to avoid
Before I get into the BEST ways to treat your abode-adorning BFF, let's talk about things to stay away from. Unless they have been giving you not-so-subtle hints, it's best to choose something that is not design-theme-specific. Live, laugh, leave that farmhouse word art right where it is, and hunt for pieces that are neutral enough to blend in with any style.
A person's home is a reflection of their taste. It is filled with furniture pieces and other design elements that were carefully selected based on specific interests that may not resemble your own. Consider the recipient's preferences when shopping for something that will be added to the mix. For example, if someone only has a modern glam vibe straight out of a New York City apartment, don't gift them something that belongs in a country cottage.
Books aren't just for coffee tables
We call them coffee table books, but they can be used anywhere. Books are one of my favorite home decor items just for that reason. Some are well-written stories woven with interesting images. Others are filled with pretty photographs we can skim through when the need for inspiration hits. I get plenty of design motivation from my stash. Check out the variety in the image below!
Console Table | Variety of books
Decorate your shelves with a stack of horizontally placed books. Place a pretty one on your entry console table and pair it with a coordinating decorative bowl. For the ones that have interesting stories, place one on the nightstand in your guest room. It looks nice and gives them something to do while they take a break from your crazy family.
When choosing a coffee table book as a decor gift, look for something related to their specific interests. Do they like cars or architecture? Maybe they're into the equestrian world, have a favorite band, or love to host parties and play bartender for their guests. Every topic has been covered in a coffee table book so you'll have no problem finding the perfect one. They'll be so touched that you were actually listening!
Since we are discussing gifts for that wannabe HGTV star, you can't go wrong with any book written by an interior designer. It doesn't matter if you aren't familiar with any (gasp). Just pick one with a neutral-colored cover and you're good to go!
Does your friend already have plenty of books scattered around the house? Another great gift idea is an acrylic book holder. It's clear, goes with everything, and still lets the book be the star of the show.
Mirror | Console table | Vases | Acrylic bookholder
Decorative boxes for shelves and more
Similar to books, decorative boxes are another great idea for home decor gifts. They're stackable and are a great way to take up vertical space on a shelf. Separate them and style one with greenery or drape a wooden decorative garland on top. In a previous post, I share tips on how to style shelves which will come in handy!
Not only are decorative boxes pretty, but they are functional too! Store your TV remote when not in use or hide your favorite candy. Maybe someone needs to hide all their Target and Homegoods receipts. Know some newlyweds? This is a special gift they can use to store memories from their big day; flower petals, an invitation, or anything that will stir up happy memories.
Metal decorative boxes | Wooden pinch pot
Available in all of the high-quality materials you can think of, it won't be a problem to find a set of boxes that will bring your special person joy. Wood or marble will add some natural touches while leather and metal can balance even the most feminine display. The structural shape combined with textured materials creates a layered look that will surely be appreciated.
My all-time favorite look is the woven set you see in the image above. They go with everything and are substantial enough to stand alone or as a statement piece among your other shelf decor. A perfect housewarming gift!
Vases and vessels
From the tiniest bud vase with a single blossom to a large floor vase for the most realistic branches, you have plenty of options in this category. Anyone into decorating is sure to have a few already, but if you notice a spot that could use a little something, a vase might be just the thing.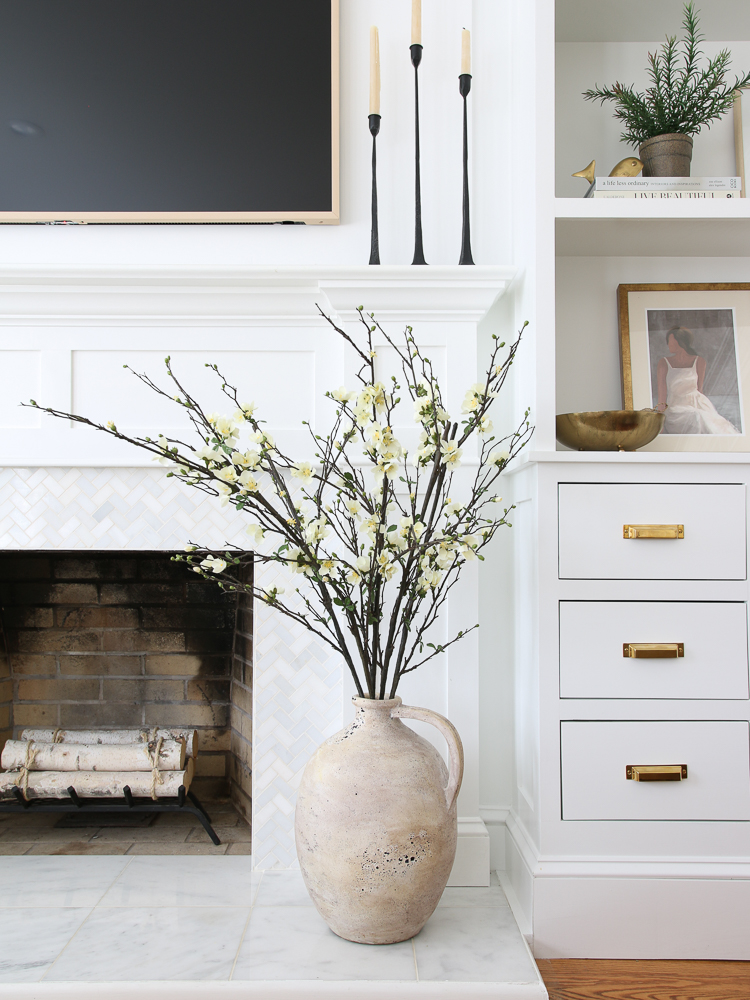 Artisan vase | Artificial stems | Candle holders | Brass bin pulls
Well-placed wicker will add an unexpected vintage feel. It mixes well with other materials and is perfect to use all year long, making it a perfect home decor gift. I love how a woven vase looks styled with winter berry branches for the holidays!
Artisan vases are always a classic in the design world. These pieces are meant to reflect something old and worn over time. Pottery Barn has some really great options, but your best bet for the real thing is your local antique shop or Etsy.
No matter the material, vases can be cherished for years to come and I'm certain the giftee will think of you fondly every time they style it with the change of each season.
Pottery jugs | Sconce | Drapes | Dining table
Vases can be used individually and filled with branches and stems or grouped together without added contents. They are quite capable of making a statement even when standing alone!
A large vase with a wide opening, or urn, is the perfect way to display large-scale flowers, like dried or faux hydrangeas as seen in the photos below. Aren't they stunning? This is one of the home decor gifts for people that like big dramatic arrangements!
Trays and trinket dishes
Trays and trinket dishes are used to corral smaller items. They help keep things organized and add a little something special.
In the past, I shared the Anthropologie Gleaming Primrose mirror collection and whether it is worth the hype. The collection includes two beautiful trays in small and large sizes. The intricate details and finishes have a chic and vintage vibe yet can be worked into just about any design style. This is one of the top home decor gifts that is sure to be a thrill for anyone interested in decorating their home.
Gleaming Primrose Vanity Trays
Do you like how I use the Anthro mirror trays in my home? In my bathroom, I use the smaller tray to hold my favorite perfume and other beauty products to help keep the countertop organized. The larger tray is either styled in my dining room or in the kitchen to dress up cocktail hour.
Tap the images for these unique pieces:
Speaking of Anthropologie, their covered trinket dishes are another popular go-to gift. Available in two sizes and – like everything else on this list – they can be easily moved around and used just about anywhere!
Covered trinket dish | Candle snuffer
A small, personalized trinket dish is such a pretty gift perfect for Mother's Day! I love to keep mine on my nightstand where it holds special jewelry while I sleep. Adding Mom's initials gives this special gift a personal touch.
Personalized dish | Chanel book | Nightstand | Lamp
Candles – the most common of all the decor gifts
Who hasn't received a candle as a gift at some point? It probably came tucked in a cute little gift bag with delicate tissue paper. You feel the weight and know what it is straight away, hoping the scent isn't something that turns your stomach or gives you a headache. I'll be honest…if I don't like it, it's probably going in the re-gift stash. For all I know, it's been passed around a few times already, haha!
To prevent the traveling candle, try some less offensive options instead. These La Jolie Muse natural soy candles have a lead-free cotton wick and come in several subtle scents like Moroccan Amber and Woodiness. It's the hobnail glass and lid that does it for me!
Candle | Acrylic bookholder | Book
Another special gift idea is a candle warmer lamp. They are smoke-free, have longer-lasting fragrances, and usually have a timer so you don't have to worry about accidentally leaving it on. The additional light source is a bonus too!
Tap the image to see these options:
Does your candle lover already have too many candle jars? Instead of adding to the chaos, go for something different like candle holders with tapered candles! These are great home decor gifts because they can be styled for every day or used for a special occasion tablescape.
Floral candle holder | Taper candles | Mirror | Candle holders | Candle snuffer
No room for yet another candle? No problem! A pretty little candle accessory kit that includes a wick trimmer and snuffer will be a thoughtful gift. Add a glass match cloche and your gift will be a hit!
Occasions for home decor gifts
There are a million opportunities when it comes to showing your love with home decor. Here are a few ideas to help you plan ahead for your throw pillow-loving friend. Happy shopping!
Birthday – for the not-so-basic birthday girl
Christmas – for the one who loves cookies but not cookie-cutter homes
Mother's Day – for your home makeover-loving mom
Housewarming – for the home interior design hustler
Valentine's Day – for your stylish sweetheart
Father's Day – for the decorating dads
For more gift ideas, check out my list of top Amazon decor under $100.