Is The Frame TV Worth It – An Honest Review
Disclosure: This post may contain affiliate links. As an Amazon Associate, I earn from qualifying purchases at no additional cost to you.
What is the Frame TV?
The Frame TV is part of the Samsung QLED collection. It has been gaining popularity in recent years because TVs have become larger and more intrusive in our spaces. It has an art mode that allows the black screen to turn into a piece of art. But there is a lot more that makes it unique and desirable.
The TV | Vintage table | Ottomans | Rug
The Frame TV was made popular by home decor influencers on Instagram who have embraced and popularized the no-TV in the living room style. Me, being one of them. My TV is the 55 inch one with a beige bezel.
The big black box doesn't quite fit with the curated aesthetic of a home styled with natural materials, soft textiles, and vintage decor. Disguise it as art and problem solved. Big TVs, projection screens, sound bars, and speakers get relegated to the man cave or the home theater room.
The technology
If you're a TV technology buff or read reviews, you may already know that the Samsung Frame TV is not at the top of the list. For a regular, non-discerning consumer, it is overpriced for what it provides in terms of picture and sound quality. You can get the same, if not better picture quality, for a lot less money. The extra dollars you spend on this TV are entirely for the sake of aesthetics. But I don't mind if you leave that part out when you try to convince your partner that you need this fancy new TV. To me, the Frame TV is still worth it for its other added features.
The TV | Vintage table | Ottomans | Rug
Almost any smart TV sold on the market these days has some sort of art mode, can display a screensaver, allows you to upload personal images to it, or can stream art from a service. Many TVs also come with a matte non-reflective display, making the art appear even more realistic. The Frame TV is no different. But Samsung is the innovator in the art mode technology. The latest model Frame TV will also have the most up-to-date improvements before other brands adopt them.
A big concern and question I get from people is energy preservation. Also, will the Frame TV sustain damage from displaying a still image for a long time? The Frame TV has an energy preservation function. There is a motion sensor that turns the art display on when someone enters the room. It also turns the art off when it doesn't detect any movement for a period of time. There is an option to turn the TV and the art completely off – like a traditional TV. The display also automatically adjusts its brightness depending on the lighting conditions in the room.
The Frame TV art
The Frame TV comes with a few free pieces of art. There is also an option to subscribe for access to a much larger library of art. You can certainly use the free options. If you don't want to pay for a membership to the art store, you can upload your own images or artwork to display. There are also a lot of inexpensive digitally downloadable art options on Etsy. They are usually under $10 and are already pre-formatted for the Frame TV aspect ratio.
One way to upload art is through the SmarThings app. I was never able to get it to work. Instead, I loaded the art directly from a USB drive that I inserted in the back of the One Connect box.
I like changing out my TV art seasonally to fit with my decor.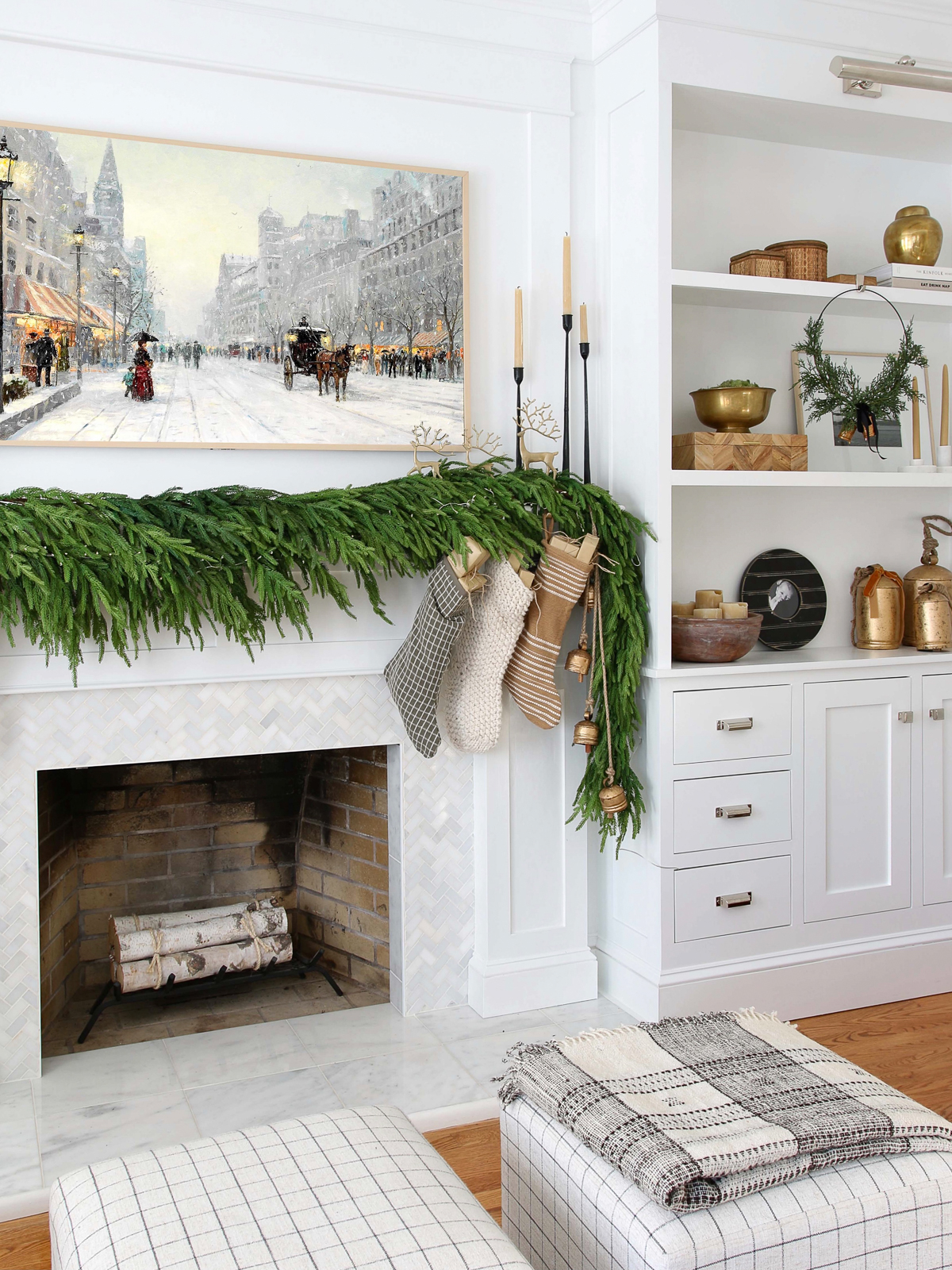 No-gap (slim fit) wall mount
What sets the Frame TV apart from the competition is the no-gap wall mount. Even if you display art on a regular TV, you won't fool anyone. The way a TV sits tilted away from the wall is a dead giveaway. Most TVs have a slightly curved back which prevents them from sitting flush even with a low profile bracket. The Frame TV is completely flat. The no-gap wall mount comes with the TV and allows it to sit completely flush with the wall. It's what makes the TV look like large wall art!
I shopped around for other TV's that have a flat back and no-gap wall mount but were not the Frame TV. I thought I could get away with getting a cheaper smart TV and save some money. The only other TVs that fit the bill were other Samsung QLED TVs that cost more than the Frame.
The bezel for Frame TV
The Frame TV comes with a thin black metal frame. For about $150 you can make the TV look even more realistic and custom. You can buy a different color bezel (think of a picture frame). The bezel comes in four pieces that snap into place with magnets. It requires no tools or complex installation. It's easy to assemble and has openings for air vents and signal transmission.
The important thing to note about the bezel is that they are made to fit each Frame TV series uniquely. Samsung releases a new Frame TV every year so you have to make sure that the bezel you buy fits the same year TV that you have.
The bezel colors have changed through the years. They used to have black which I made the mistake of buying but have discontinued it. Rightly so because adding a slightly thicker black bezel to the existing black metal frame makes no difference at all. Save your money!
There are currently a couple of white colors, beiges, and browns. They are supposed to imitate wood texture but are plastic. You can't tell from afar that it's cheap thin plastic and hopefully, your guests won't be getting that close to the screen either.
There is a company that manufactures a wide variety of decorative frames that are made to fit the Frame TV. They provide a lot more choices and customization options to fit any decor. I don't personally have experience with this brand but it looks like something I could give a try in the future:
One Connect cable and box
Another feature that sets Frame TVs apart is the cable. It uses a single optical One Connect cable and box system. The One Connect cable has both the power and data cables together in one, barely visible cord.
The One Connect cable runs from your TV to the One Connect box, then the box just gets plugged in. If you don't want to bother with hiding that thin wire, it is an improvement from the power cord and HDMI cable mess of the past. For more detailed instructions on how to set up your Frame TV, check out the How to Hide TV Wires in the Wall post.