Simple Tips for Decorating with Coffee Table Books
Disclosure: This post may contain affiliate links. As an Amazon Associate, I earn from qualifying purchases at no additional cost to you.
What is a coffee table book?
Back in the day, we had several magazine subscriptions dedicated to our favorite subjects. They'd be fanned out – evenly spaced – on display to show off our sophisticated tastes. With the shift to online publications, the popularity of decorating with coffee table books began to rise.
Faux lilacs | Joy of Kitchens book
Unlike traditional books that line the shelves of your local bookshop, coffee table books are larger and almost always hardcover. Their purpose isn't usually to tell a compelling story with words. Sure, there are stories to be told, but they unfold through beautiful photographs that provide visual inspiration and provoke your mind differently than words alone.
The concept of decorating with coffee table books
You may think these books are reserved for a certain table in your living room, given the name. However, you'll be surprised by how many ways you can work them into your decor! I'm going to share all my best ideas for decorating with coffee table books in a well-appointed home.
Let's talk about starting a collection and which books are right for you. To help narrow it down, topics should be based on your interests. After all, your home is a place to express your personal style and tastes, right? Interior design books are predictably popular with those of us that love home decor, but variety is nice.
To be honest, I've picked up a few books just because they look pretty! Check out my collection in the image below.
If you already have a curated collection and need a few pointers, you've come to the right place! Maybe you've tried styling them only to come up with questions about the "rules". How many books should I stack together? What is the best layout for the shape of my coffee table? Let's get into it!
Start with the obvious
Finding the best layout for your coffee table books depends on a few things. First, the size of your furniture will determine how many decorative objects are appropriate. The second factor is shape. Round tables require a different arrangement than square or rectangular ones.
Lastly, consider your style. Are you a minimalist or do you go overboard and just pile surfaces with every piece of decor you own? Hang on – I'm stressing at the thought – gotta take a few deep breaths.
When styling a round coffee table, I usually make a triangle of varying heights with my decor. Including a stack of books is a great way to add some depth. You can easily adjust the number you add to find just the right height. The image below was taken several years ago, but you can see how I applied this method.
Rug | Chairs | Decorative boxes | Round coffee table
For a rectangular coffee table, a simple linear grouping will work. Play with it a bit to see what you like best in your space. Try a stack of books paired with a decorative bowl or vase! It's easy to come up with the right scale here.
Velvet sofa | Rug | Bowl (similar) | Chairs
My current living room design includes a square coffee table. It's a little larger than the previous ones I've had and I love how I can add more decor to it without it looking cluttered. A simple square pattern is all you need! Again, varying shapes and heights are important for that curated look.
Shelf styling tips
Besides decorative boxes, pretty books are one of my favorite go-to shelf-styling items. You can stack them alone or use them as a riser for smaller pieces. Show off your interests and hobbies. Maybe your guests will notice and it will spark the realization that you have something else in common!
Woven boxes | Brass pulls | Brass knobs | Books
Pick a few with coordinating spine colors and add them to a shelf with other unique pieces. Place several together to create a thoughtful collection of topics. If you just have a bunch of books but don't like the crazy colors on the spines, flip them around and let the pages provide a neutral and subtle texture.
If you are looking for some beautiful shelf decor to style with your books, check out my list of favorite Amazon home decor for under $100. There are lots of great finds!
Decorating with coffee table books in your entryway
The entryway may sound like an odd place to add coffee table books. No one is hanging around there looking for something to do. It's a place that welcomes your family and friends and gives them a first impression of what to expect in the rest of your home. I want them to walk in and think, "Wow, Stefana has impeccable taste and I wish I knew her decorating secrets!" Now you have them!
Since this space is a pass-through to other areas, I don't decorate with lots of books here. I usually stack a couple of books on my entry console table or use a book holder to show off a particularly pretty spread.
Console table | Candle | Acrylic book holder | Make Life Beautiful
This acrylic book holder is perfect because it's clear so the book is still the star of the show! I don't think many people think to use one when styling their coffee table books so I added it to my list of amazing home decor gifts.
Pretty culinary publications
I bet you didn't think of "cookbooks" as part of the coffee table book category. Don't get me wrong, I wouldn't add one dedicated to crockpot recipes or the latest fad diet. I'm talking about the culinary collections that are just as much a work of art as they are a tool for feeding your family.
Filled with creatively photographed food, they are just as inspiring as a book about famous gardens or icons in the fashion world.
Savor | Sunday Suppers | Eat, Drink, Nap | Faux artichokes
An option for those that love to host parties is a book about crafting cocktails. Even if you aren't an expert mixologist, no one will know!
For interior design books that are dedicated to stunning kitchens around the world, what better place to style it than your kitchen? Add it to your kitchen island decor and combine your favorite things – flip through pretty pictures as you enjoy your morning coffee or tea.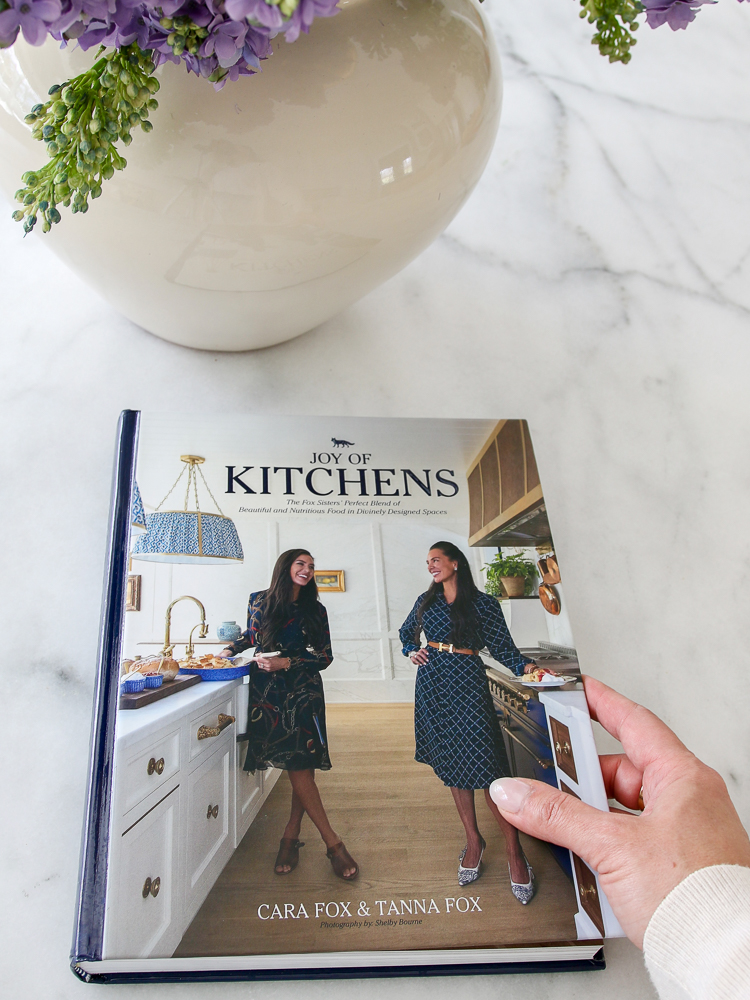 Make things interesting in the bedroom
Listen, I'm not going to make any assumptions or judgments about the types of books you like to enjoy in the bedroom! I'm simply here to let you know that a vanity or bedside table is the perfect landing spot for a coffee table book.
Personally, I love the fashion world just as much as interior design. The iconic designs are amazing and the stories are equally fascinating. Keeping one on my nightstand not only gives me reading material, but it adds an extra layer to the decor.
Nightstand | Lamp | Wallpaper | Perfume | Chanel book | Trinket dish
I love to pick up my Chanel book for inspiration, but other popular picks are the Tom Ford coffee table book or the story of Louis Vuitton. Tap the images to get yours:
I've mentioned before that I also like to stash a couple in my guest room. If you know the interests of your sojourner, imagine how welcoming these personal touches make them feel. Maybe add some about travel or history. I'd skip the books about notorious killers or any other terrifying topic.
FAQs about decorating with coffee table books
I'll give you a few suggestions here, but we all know that some rules are meant to be broken. Here are some common questions when it comes to using coffee table books as decor:
Why should you decorate with coffee table books?
Decorating any space is about making it look beautiful and interesting. Books check both boxes because the cover can be a work of art and the pages contain information and inspiration. Style them just like you would a pillow – use colors that coordinate with your decor.

How many coffee table books should be in a stack?
It depends on where you style them. Usually, 2-4 will do the trick for a shelf or coffee table. For an entryway table, I suggest sticking to 1-2. The key is to stack them in order by size with the largest on the bottom.

What are the best coffee table books for men?
The best option for collecting books for decorating is to go for the topics that interest you. This goes for the guys too! If you like automobiles and architecture, that's your answer. Into fashion and interior design, there you go. Other subjects I like to recommend are photography, history, culture, humanity, and travel. It's interesting to learn about other parts of the world!



Tap to check out these other options: