Decorating Trends and Interior Design Choices You Might Regret
Disclosure: This post may contain affiliate links. As an Amazon Associate, I earn from qualifying purchases at no additional cost to you.
Your home should be filled with things you love. After all, it's a reflection of your personality and style. But what happens when you like particular decorating trends that may not be so easy to come back from? This post is all about helping you decide if the risk is worth the reward.
Wallpaper
Like many other decorating trends, wallpaper goes in and out of style. It has been gaining popularity lately and we are seeing more designers add it to their own homes.
What comes to mind when you think of wallpaper? Grandma's house? Wild patterns of the 90s? Or is it the reputation it has of being a nightmare to remove? Modern day wallpaper is much easier to hang and remove, but I understand your hesitation.
The process can be a little messy and it takes some patience to remove it. But after having done it a few times, I can personally attest that it really isn't that bad. The most recent space I added wallpaper was my daughter's room. Go check out all the details and sources for her room!
If you want to know more about it, check out my post on how to hang and remove wallpaper.
For those of you that really want to try wallpaper but are still a little hesitant, I recommend starting with a neutral wallpaper pattern. You can swap out other decor elements in the room without worrying about whether or not they will coordinate with the colors and patterns on the walls.
Painting an entire room the same color
Painting walls, ceilings, and trim the same color is one of the decorating trends that elevates the look of your home. If you change your mind and want to go back to a white ceiling and trim you may regret that dark color.
Painting ceilings is a literal pain in the neck. It's awkward to work overhead and after a few minutes, your neck and shoulders will remind you that maybe it wasn't such a great idea after all.
I painted my basement media room all black. I love the way it looks and don't plan to change it anytime soon. If you are considering painting an entire room, especially a dark color, consider the work it will take to go back to a lighter color – especially on a ceiling.
Check out my post on things to consider before you paint a room all black for more tips and information!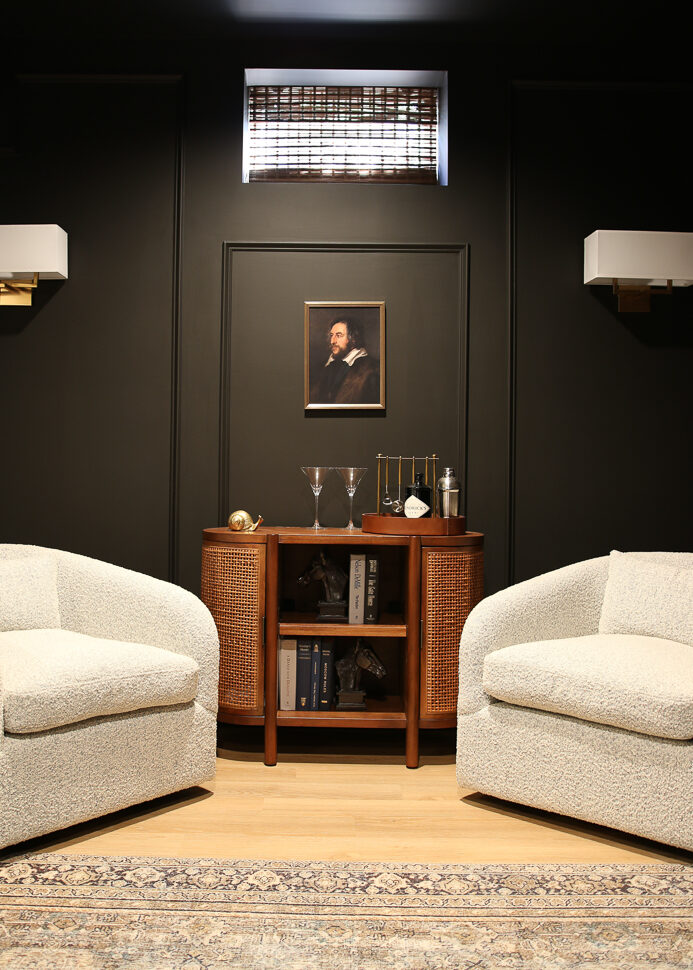 Trim is difficult too because it requires lots of prep work. You'll need to tape off both the ceiling and the walls around the trim in order to get a nice clean line. Also, it requires a different paint finish so you can't just use the same stuff you put on the ceilings or walls.
The only other way to avoid all this work is to hire someone to do it for you. This can get expensive, especially for detailed trim work.
Shiplap on the walls
We are on a roll with wall treatments! Shiplap is one of those decorating trends that is tied to a certain design style. If that is your thing and don't have any plans to make changes then shiplap is not a risky trend for you.
When shiplap boards are installed horizontally, they have a farmhouse or casual look. I recently gave my mudroom and laundry room a makeover that included vertical shiplap.
Combined with other elements in the room – like marble checkerboard floors and beautiful wallpaper – the vertical boards have a different vibe.
Shiplap can be installed a couple different ways. You can either attach individual interlocking boards to the wall or you can use shiplap panels instead. Read my tutorial on how to install shiplap for more details.
Like the cane door cabinet in the image above? Get yours here!
Either way, you are using things like glue and nails to secure them which means you will have some repair work to do if you change your mind.
Flooring alternatives
My home is a mix of styles but I tend to lean toward sophisticated and classic design elements. If you've been around a while, you know I have an affinity for natural materials and use them wherever I can.
When it came time to choose floors for my basement, I think I was just as shocked as everyone else when I went with LVP Floors. The subfloor in a basement is a concrete slab which makes true hardwood installation very costly, if not impossible. That and the possibility of water damage make hardwood not the optimal choice. But LVP is great for below-grade installation.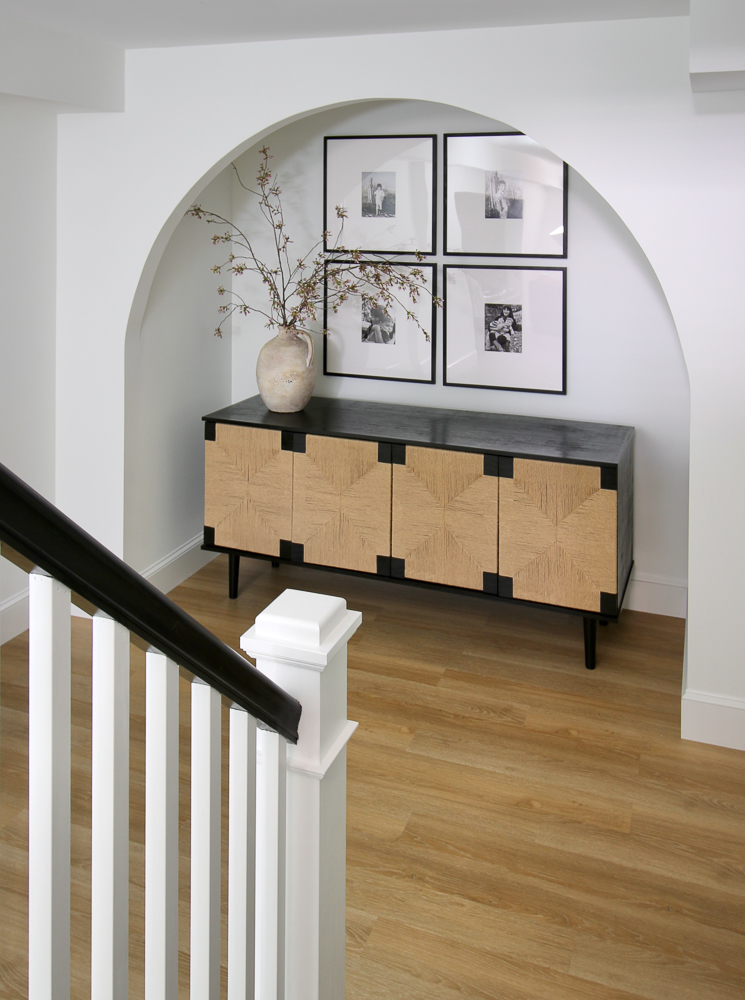 If you are considering a hardwood substitute there are a few things you need to keep in mind. There is a vast difference in quality between different products. The good ones aren't cheap but they are still more cost effective than real wood.
Don't mistake luxury vinyl plank for linoleum like I did at first! LVP is a durable design trend that mimics real wood better than anything out there.
Don't want to spend money on hiring out installation? No problem! This is a DIY project that doesn't require lots of tools and the process doesn't make a mess. I'll refer you to my LVP floors post which is sure to answer all your questions about whether it will be a design decision you might regret.
Furniture fabric choices
Do you have kids or pets? One of the biggest considerations most people have when it comes to picking out furniture for your home is durability and maintenance.
You've probably dreamt about a white or light-colored sofa but are deterred at the thought of keeping those dirty little hands or paws away from it.
I felt the same way, but after doing some research I pulled the trigger on the decorating trend I had always wanted. The leather sofas went into the basement and I replaced them with not one but two VELVET SOFAS! One is white and the other is a camel color.
Looking for a new sofa? Read my honest review of the West Elm Marin sofa for more details.
I also added a couple of white boucle accent chairs to the space and I am here to tell you that I have zero regrets about light-colored furniture decorating trends. Want to know why? Because I discovered that cleaning and maintaining fabric furniture isn't as hard as I imagined it would be. For me, the "risk" was worth it!