Creative Places to Hang Wreaths Inside Your Home
Disclosure: This post may contain affiliate links. As an Amazon Associate, I earn from qualifying purchases at no additional cost to you.
When it comes to decorating for the holidays, the obvious place to hang a wreath is on your front door. But did you know there are many other places you can use wreaths on the inside of your home? Keep reading to find out the best places to hang wreaths indoors for a festive holiday season.
Interior doors
Guests and passers by get to see your front door wreath more than you do. Why not add one to the inside of your front door so you can enjoy it too?
Hanging matching wreaths on the exterior and interior of my front door works best with the window, but if you have a solid door, you can mix things up.
You can hang wreaths on interior doors too! This is a great place to add a little greenery for the holidays.
Hang wreaths on the inside of windows
There are so many ways to hang wreaths on the inside of your windows. One way to do it is to use ribbon or clear fishing wire to drape them from the top.
A second way is to use a hook with adhesive or suction to secure a wreath to the window.
I like to drape garland on the floor mirror in my bedroom. Hanging a wreath on the window opposite the mirror gives this space the perfect Christmas look.
Cabinet door wreath ideas
The kids use the mudroom built-in cabinets to store coats and backpacks, but I think they are the perfect place to hang wreaths for the holidays.
I use small ones that won't interfere with the function of the doors and hang them with a classic velvet ribbon.
Upper kitchen cabinets are a great place too, but I like to hang wreaths in a different spot in this space.
Ways to hang wreaths on stools or chairs
When it comes to Christmas kitchen decorating, there are several places to hang wreaths. One of my favorites is the backs of the rattan kitchen counter stools around the island.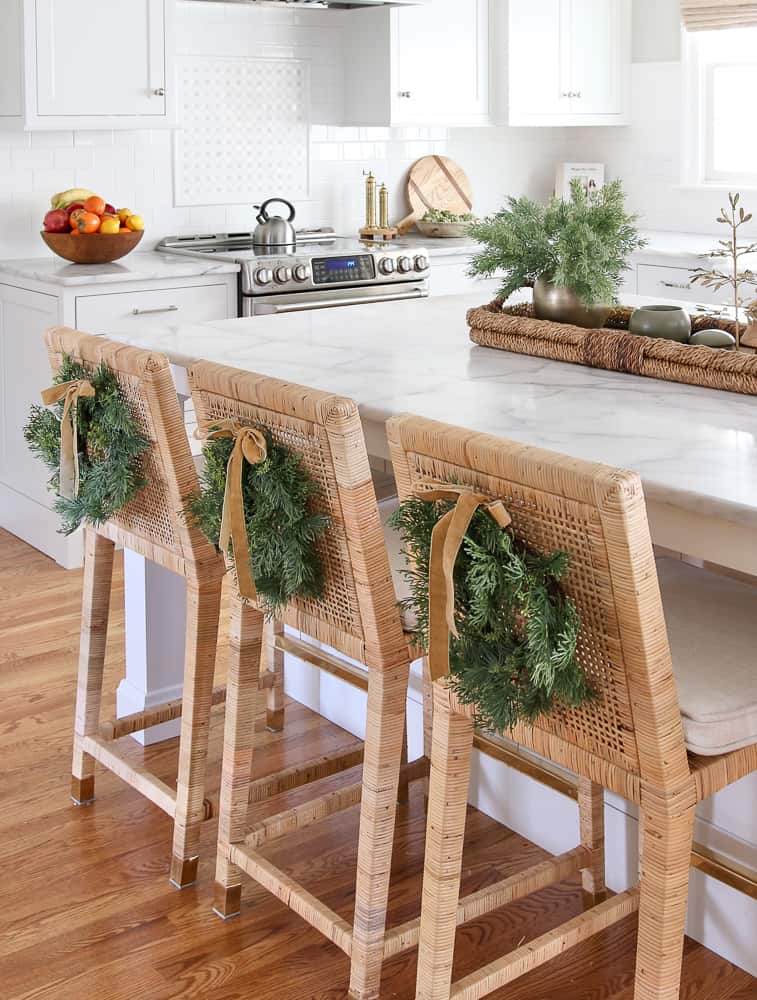 You can see them from every entry point and I love how the greenery looks against the natural woven material.
Since the weave is too tight to work a ribbon through, I simply use an ornament hook to attach the wreath to the back of the chair. Works like a charm!
If you have stools or dining room chairs that can accommodate using ribbon, use a color that looks stunning with the rest of your decor.
A few years ago, I designed a traditional red and white Christmas table and used the prettiest striped ribbon as an accent.
Where to hang wreaths on the wall
If you have a blank wall, Christmas wreaths are a great way to decorate that empty space. Hang one above a bed or other piece of furniture.
Hanging one above a fireplace will give your home a storybook Christmas look. The possibilities are endless!
This bench is one of my all-time favorite purchases. You can see in the image below that I styled it with throw pillows and blanket.
For the holidays, all I did was hang a wreath above it and created a minimalist Christmas look in one simple step.
Unique places to hang wreaths
There are so many places around a home that most people don't even think of when it comes to decorating for the holidays. As long as it doesn't interfere with the function of a space, you can hang a wreath on it!
Wall-mounted light fixtures
Table lamps and ceiling lights aren't usually conducive to hanging a wreath. However, if you have a wall-mounted fixture, like a sconce, take advantage of this opportunity to add some Christmas cheer!
My kitchen has three sconces above the sink area and I use them to hang wreaths at Christmastime. Since these are mounted pretty high, I use with ribbons to attach them and I love how it adds a little color and draws the eye up.
(See something you like in my kitchen? Check out my kitchen hardware and marble countertop posts!)
In past years, I've used picture lights as a way to hang a wreath in my living room.
Mirrors
If you have a decorative mirror in your home, it's a great place for a wreath. You can hang it just like you do on a window. Skip the bathroom vanity mirrors though. While it may look pretty, a wreath will obstruct the view of the mirror and make it difficult to use.
Wall art
I do this in a couple spots in my home. The first is the large wall art that hangs in my home office. A simple little wreath is all the built in desk and cabinet space needs for the holidays.
Get DECOR SOURCES from this space in the post about my home office built-ins. The paint color is Benjamin Moore Storm Cloud Gray.
The second place hang a wreath over frames is in my basement. I have a square grid gallery of family photos above the rushed cabinet I built and I love how the round wreath off-sets the shape of the frames.
Sources: Picture frames | Rushed door cabinet (similar)