Classy Halloween Decor Won't Make You Cringe
Disclosure: This post may contain affiliate links. As an Amazon Associate, I earn from qualifying purchases at no additional cost to you.
Do you want to decorate your home with classy Halloween decor that you can reuse year after year? If you have an elegant and minimal home decor style, you may be struggling to decorate for this holiday which is traditionally loud and over the top. Halloween is one of my favorite holidays but I also don't love having excessive seasonal decorations. You can see my examples of previous Halloween decorations. Read on for my rules of thumb when it comes to decorating for this fun holiday.
New classy Halloween decorations for 2022
You don't have to use orange or neon colors to decorate for Halloween. Contrasting black elements can achieve the desired spooky effect while maintaining a classy look, as shown in the photos from Pottery Barn below.
Halloween decor to avoid
Let's start with the things to avoid if you are going for an elegant style that includes only classy Halloween decor items:
Less is more – having fewer but more thoughtful items is better as opposed to covering your entire living space with Halloween decor. You want your space to look decorated and not like the Spirit Halloween store itself.
Avoid loud colors – yes orange is a traditional Halloween decor color but mixing to many colors or incorporating neon colors in your decor will not achieve an elegant look.
Say no to animatronics – having too many battery powered displays that move or have a noise effect can become overwhelming to a visitor. Your guests may not appreciate a haunted ride experience at every corner. Not to mention, most animatronics only last one season. Battery powered decor is not a long term sustainable solution.
What is classy halloween decor?
Classy halloween decor for the elegant home is subtle and incorporates seamlessly with the existing design style. Rather than looking like tacky decoration, the decor appears natural in the space and makes it look like a movie set. The photo below is from my dining room and the only Halloween decor items here are the bats and birds. They are black and very realistic looking. I foraged the dried branches from my back yard.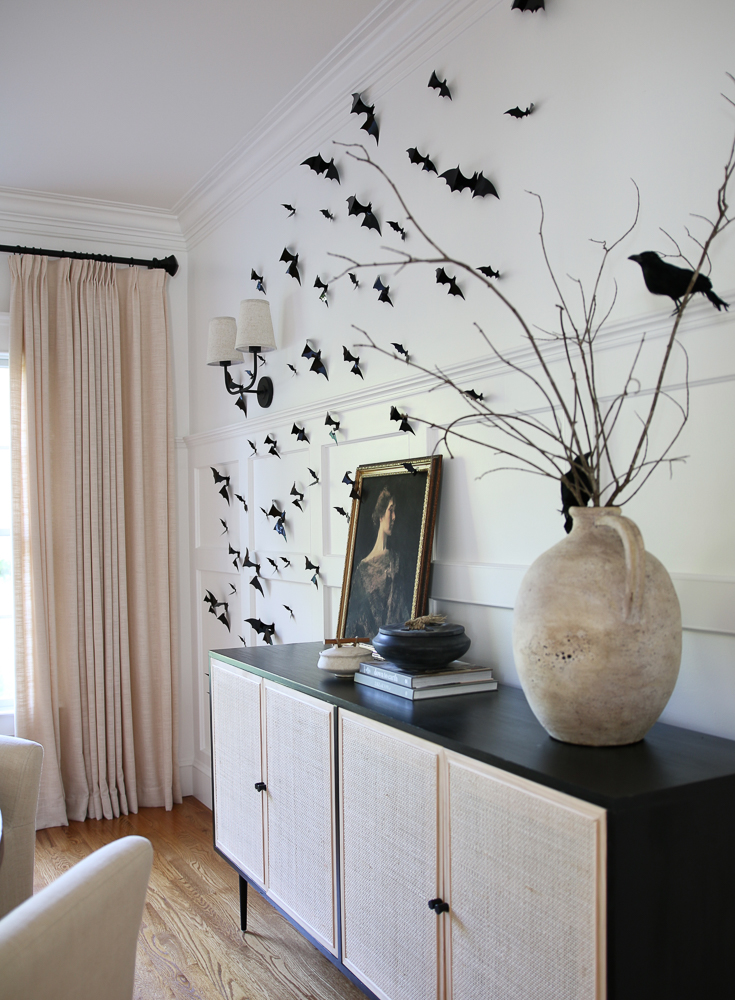 Halloween bats and black birds
Halloween bats have become very popular in the past couple of years. They are inexpensive and even though up close they are just a thin folded piece of plastic, they create quite the statement when displayed as a huge flock. The halloween bats come with peel and stick tabs that easily remove from the wall without damage.
I also used bats for the Halloween decoration on my front door. Some of them fell down but enough stayed up for the full month of October.
Oversized scary spiders
Another popular item is the oversized spiders. They come as a set of five with bendable and posable legs. The fuzzy material makes them realistic and spooky. I loved adding them to my fireplace wall. I used command tape to attach to the walls or just hung them from Halloween spider web.
Mix classy halloween decor with regular objects
Another subtle way to incorporate classy Halloween decor is to mix it in with your existing shelf decor. You can perch the Halloween black birds on top of boxes and books. Replace ordinary picture frames and candles with Halloween themed art and spooky pillar candles.
The framed art actually looks like vintage family portraits. But when you look at it from a different angle, the faces morph into horror inducing images. They come in a set of six to display in various locations in your home.
Favorite Halloween decorations from Amazon