7 Ways to Style a Big Blank Wall
Disclosure: This post may contain affiliate links. As an Amazon Associate, I earn from qualifying purchases at no additional cost to you.
Do you need to decorate a blank wall?
When decorating a home, it's not usual to run into a few design dilemmas along the way. One of the most frequent topics people ask for guidance with is what to do with a big blank wall.
Decor decisions in your home should be based on your personal preference and style. However, there are a few general thoughts to keep in mind if you want your home to look well put together. Is leaving walls blank an option? Sure! You just have to do it in a thoughtful way that works.
Sofa | Coffee table | Rug | Ottomans | Wall art
Is it ok to fill every square inch of wall space? I'm going to say NO to this one! Overdoing it causes your home to feel cluttered and eliminates the ability to appreciate design details. In this post, I'm sharing seven ways to style a big blank wall to help you find the right balance for your home.
Large-scale wall art
If you choose the right piece of oversized wall art, this can be one of the simplest ways to rectify a large empty space. Before you go and buy something, consider what your intentions are – besides the obvious.
Wall Art (similar) | Woven boxes | Lamp | Rug | Sofa
Think about the rest of the design elements in the space. Rooms with bold colors and patterns may benefit from large wall prints with neutral features so it doesn't compete with everything else. If you've already worked out the balance in a room, you don't want to tip the scale in the wrong direction.
Wall art | Coffee table | Lamp
In my living room, I used this technique to fill the space on the wall above one of my sofas. The room is filled with neutral colors and natural elements, so I wanted something that would complement the other details.
The current large-scale art is a framed Kader Boly print called "Migration" and it reflects humanity's relationship to the natural world. I love the beautiful tones – perfect for this space! This one tends to sell out, but there are so many similar options available.
Sofa | Coffee table | Rug | Wall art | Candle holders
If you are looking for something that will stand the test of time, I recommend staying away from trends that don't fit the style of your home. Shop around for something large in size, but understated in style and you can't go wrong!
Gallery wall
Hearing the word "gallery" tends to make you think of an artist's work lined up on display. This is actually a great way to decorate long, narrow hallways. Add a few family photos that are sure to bring a smile to your face as you go about your day.
The traditional way to hang a photo wall is with a symmetrical grid gallery using the same-sized frames. Here, the outer edges of your frames line up on all sides creating a square or rectangle. I created this look under an arched niche using black photo frames to coordinate with the furniture below. The cabinet is another one of my DIY projects!
Frames | Vase | Sideboard (inspiration for my DIY)
Trying to get frames perfectly lined up tends to cause frustration and unnecessary holes in the wall. If you have a larger space to cover but still want that symmetrical feel, I recommend going with a staggered grid gallery. I used a Framebridge gallery kit for my photo gallery wall because it was so simple! You just upload your photos. They get printed, framed, and shipped to you with a life-size hanging guide. I was able to hang this gallery in just a few minutes – worth every penny!
Staggered gallery | Bench | Vase | Rug
Already have a curated collection of artwork that you just don't know what to do with? An organic gallery might be right for you! This type of gallery has an unplanned look created by mixing and matching frames with varying sizes and styles.
If you still want a little structure, try to use complementary artwork or photos and evenly space them when possible. To lovers of an eclectic design style, this is your time to shine!
Oversized floor mirrors
Leaning floor mirrors are an unexpected wall design idea and a great way to add drama to your home. Not only does this option look beautiful, but it also creates the illusion of a larger space.
Arched floor mirrors are a popular pick due to their simple design style, but there are so many other options. Take a stroll through the aisles of any home decor store and you'll see just what I mean.
When it comes to filling space on a big blank wall with a mirror, the bigger the better! I wasn't sure if the 7′ Anthropologie Gleaming Primrose mirror was worth the hype, but it is stunning and massive! The vintage details are the perfect accent for any room.
Mirror | Bed | Quilt | Wallpaper | Lamp | Throw blanket
Using a large mirror isn't just for the bedroom. Make a small entryway feel larger and inviting or use it to reflect light in any poorly lit room. It is truly a statement piece no matter where you style it.
Wall molding
Installing wall molding was one of the best design decisions I've made for my home. It adds visual interest to the white walls of my entryway and gives it a custom feel not found in cookie-cutter homes.
Not in the position to hire out the job? I have a tutorial on how to install wall molding that has everything you need to do it yourself!
My entryway has plank molding that goes all the way up to meet the existing crown molding. The pattern continues throughout the hallway and up the stairway wall to the second floor.
For the upstairs hallway, I kept the molding to the lower third of the wall. It's not a wide space so it doesn't require the same floor-to-ceiling plank pattern I did in the entryway.
I added a vertical shiplap in my boys' shared bedroom. This space has a casual masculine feel so I didn't want anything too formal. This wall is very wide so the vertical lines contrast that and draw the eyes upward.
Beds | Bedding | Console table | Lamp | Desk chair | Sconce
One of the great things about wall molding is that you can fully customize it. Accentuate the style of your home and add details to your walls that you will never get tired of. Unlike trendy wall art, wall molding will never go out of style.
If you want to go a step further with your woodworking skills, try adding built-in bookshelves! I have a few tutorials on that as well! My most recent project was the office built-ins, but I've built them in my living room and upstairs loft too!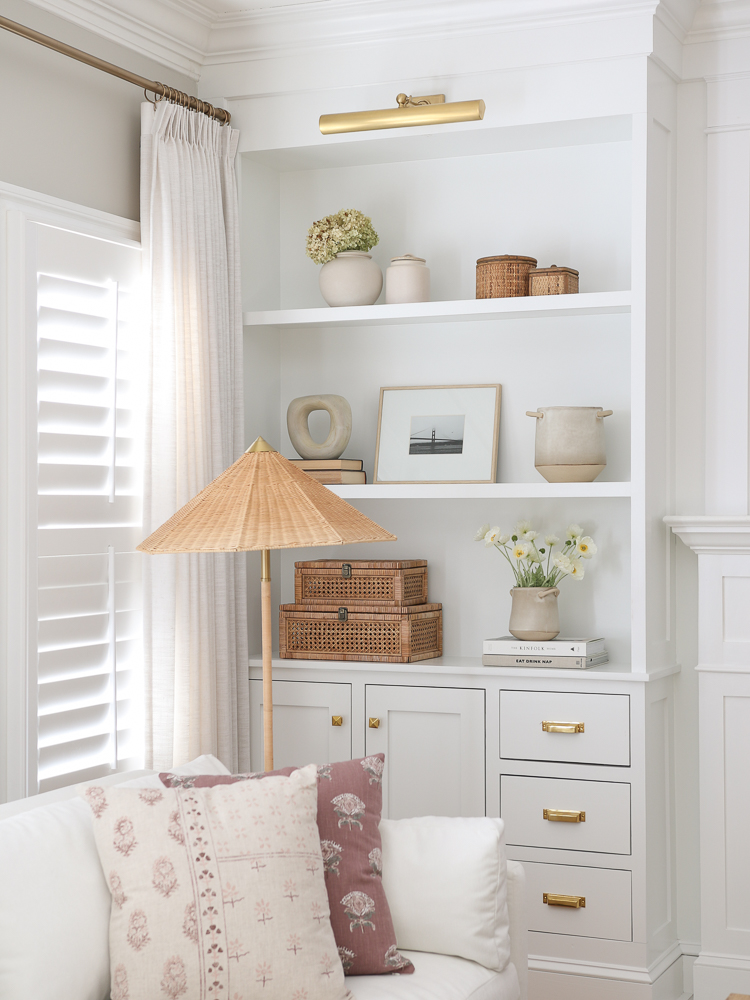 Living room sources: Sofa | Woven boxes | White Drapes | Picture light
Office sources: Chandelier | Desk chair | Round table | Patterened Drapes
Furniture to fill a blank wall
Sometimes all it takes is a little creative rearranging to give a room new life and fill the void. Try moving your sofa around or placing a pair of accent chairs along the wall. If you have a multi-purpose space, try adding a small desk or table.
Console tables are so versatile! I have a small one just inside my front door, but the long hallway that leads to the main living area required something more substantial.
I chose the Pieter Console table from McGee & Co. not only for the subtle reeded detail, but it measures 72″ wide! The perfect size for the space and plenty of room to style with decor.
Console table | Mirror | Book holder | Lamp | Basket
Speaking of decor, a sideboard in the dining room is another great dual-purpose piece of furniture. You'll get much-needed storage and it has plenty of surface area for you to decorate. Here I styled the 3′ Gleaming Primrose mirror with a pair of sconces to fill the blank wall.
Sideboard | Vase | Trinket dishes | Mirror | Art | Sconces
An alternative to a console table is a bench. The two benches I have are very different in style, but both can be used just about anywhere.
Wallpaper
It's not everyone's taste, but wallpaper has been making a comeback in the best way! Just be sure to do the whole room and not just a big blank accent wall.
In a previous article, I mentioned there are different options when choosing wallpaper. There is the traditional and more permanent kind that uses paste to adhere to the walls. Then you have the peel-and-stick kind with temporary adhesive.
Bed | Nightstand | Lamp | Rug | Throw blanket | Wallpaper
For my son's room, I chose a classic neutral plaid pattern that blends perfectly with the upholstered bed and other furniture in the room. My daughter's vintage modern bedroom has beautiful block print wallpaper. No need to add wall decor!
The primary suite in my home has Nuvolette wallpaper that looks so serene in both large and small spaces. It has a soothing pattern of clouds in a neutral tone which would easily look beautiful in a large area.
Bed | Quilt | Wallpaper | Lamp | Throw blanket | Rug | Nightstand
Open shelves
If you love decor and interior design, you know how important shelf space is. Open shelving creates a unique storage opportunity in kitchen designs with lots of wall space or as a replacement for cabinets when you lack space.
In a kitchen setting, open shelving is used to display things like dinnerware and drinkware. Not saving space for open shelves during my kitchen renovation is one of the regrets I have about that project. I would love to style the shelves with pretty things and have easy access to some of the most used items.
Pendant | Faucet | Soap dispensers
During the basement finishing project, we didn't have enough space to add a bunch of cabinets on the wall. I took that opportunity to finally get some open shelving! This space mostly serves as the snack and drink station for the media room, but I love to be able to change things up and rotate my shelf decor.
Moscow mule mugs | Wine glass rack
Now you have plenty of ideas to style a big blank wall in any room. Don't be afraid to change things up and try different things. Sometimes the best solutions to our design dilemmas can be found in our homes right under our noses!