Kitchen Lighting Design Tips That Make Your Home Look High-End
Disclosure: This post may contain affiliate links. As an Amazon Associate, I earn from qualifying purchases at no additional cost to you.
Why you need a kitchen lighting design

Whether it's a new build or a renovation, you'll spend a lot of time choosing and – let's face it – a small fortune on cabinets and countertops. Having a proper kitchen lighting design is just as important to the overall look and feel so it shouldn't be an afterthought.
Pendants | Brass Sconces | Drawer pulls | Round knobs | Door Latches | Counter stools
Not just a utilitarian space for cooking, a kitchen is the heart of the home – where families gather and make memories. When the sun sets, you need enough light to function, but it should also still feel warm and inviting for all those get-togethers with friends or late-night chats over leftover dessert.
Outdated lighting can make an otherwise beautiful kitchen feel underwhelming. Don't worry, planning or updating your kitchen lighting doesn't have to be complicated. In this post, I'll share the light fixtures in my home and other options to inspire you to let your personal style shine!
Find the right kitchen island pendants
I'd always dreamt about having a classic white kitchen. Before we even started our kitchen renovation, I already had the main design elements picked out! Inset cabinets and marble countertops were at the top of the list. Included in the elegant and coastal design plan was a pair of polished nickel lantern-style pendants centered over the island.
Lantern Pendants | Counter Stools (Similar)
Pendants, placed over an island or peninsula, are the focal point your guests may notice first about your kitchen. As bulbs are visible from all sides, lanterns produce a broad light and are a great source of ambient light. Even if you need something on the smaller side, this style is still a great choice to make a statement.
As my tastes changed, so did my pendants. I loved the lines of this popular drum light and how the black fixture contrasts with the light linen shade. The shade completely surrounds the bulb resulting in filtered and slightly more focused light on the island below. They deserve a place on the best kitchen lighting list.
Pendants | Counter stools | Vase(similar)
Once the brass cabinet hardware bug bit me, I needed to update the pendants for a more cohesive look. Just a glimpse of these beauties and I knew they were going to be added to my light fixture family. A perfect touch of quiet luxury.
Pendants | Drawer pulls | Round knobs | Door Latches | Counter stools | Faux Artichokes | Faux Lilacs
Known to add a little drama, the shades are low and wide, reflecting light in a unique way. Light is directed downward giving this style of pendant a different purpose: task lighting. A direct overhead source that has the purpose of brightly illuminating a workspace without the effect of shadows.
Add modern LED recessed lighting
Not the most exciting part of your kitchen lighting design, but an important consideration nonetheless. The general spacing rule for recessed lights is about 4-6 feet. However, if you have a new build, it's important to have a conversation with your cabinet supplier and contractor about the best placement and spacing for your kitchen.
Recent versions have a sleeker look than the older can lights and use LED technology with a long life expectancy. If possible, choose ones that are compatible with a dimmer switch and have color temperature-changing technology. Just select the color you prefer and pop it back into the ceiling! I consistently use warm white in my home – it's more soothing than the cooler options.
No need to stress if you have old-fashioned can lights. Nowadays, there are options that you can retrofit to the existing fixtures. This is a simple task that doesn't require hiring an electrician. All you need is a ladder! First, remove the old bulb and can then screw the adapter in where the light bulb normally goes. Next, just pop in the new fixture!
Helpful tip: measure the existing hole so you know how wide of a rim you'll need so you don't end up with an unsightly gap.
One of the best decisions for every kitchen lighting design is to install dimmer switches and compatible fixtures. If you don't like the idea of adding dimmers (even though I know you'll love it!) but still want the ability to control your overhead kitchen downlights, separate lights into groups and connect them to different switches. This way you can isolate lighting to suit your needs.
Install wall sconces for accent lighting
Accent lighting plays a crucial role in setting the mood and creating the perfect atmosphere in your kitchen. Wall sconces are an easy way to do that! Plus, they don't take up usable space on the countertop like a lamp will.
With endless options available, you won't have a problem finding the perfect ones to match your personal style. Mixing and matching light fixtures gives you that dynamic look seen in all the top designer kitchens.
Sconces | Drawer pulls | Round knobs | Door Latches | Counter stools | Soap dispensers
I chose these swing-arm wall fixtures because they are adjustable and have that vintage library look. Lined up over the kitchen sink, the antique brass finish has just enough contrast with the SW Agreeable Gray walls. Notice how they add to the design but won't compete with the pendants.
These particular fixtures give a downward directional light which is exactly what I wanted in this space. If you prefer to use wall sconces with a more global light cast, try something with either a clear or milk glass shade.
Tap the images to check out these options:
Under cabinet lighting ideas
Many people think this is an unnecessary addition to a kitchen lighting design, but it has a dual purpose. It can be used as accent lighting in the background or task lighting if you are working at the counter.
Install LED strip lights underneath your kitchen cabinets to give you a safer workspace and also for ambiance. As a rule, if installed correctly, the strips shouldn't actually be seen from anywhere in your kitchen.
Drawer pulls | Round knobs | Door Latches
To prevent visible wires, have them hardwired, or be sure to have the battery pack attached to the underside of the cabinet as well. I had an electrician hardwire mine and connect them to a switch. He also added a power strip under the cabinets so I don't have to worry about visible outlets! The downside of using batteries for power is that you must change them periodically.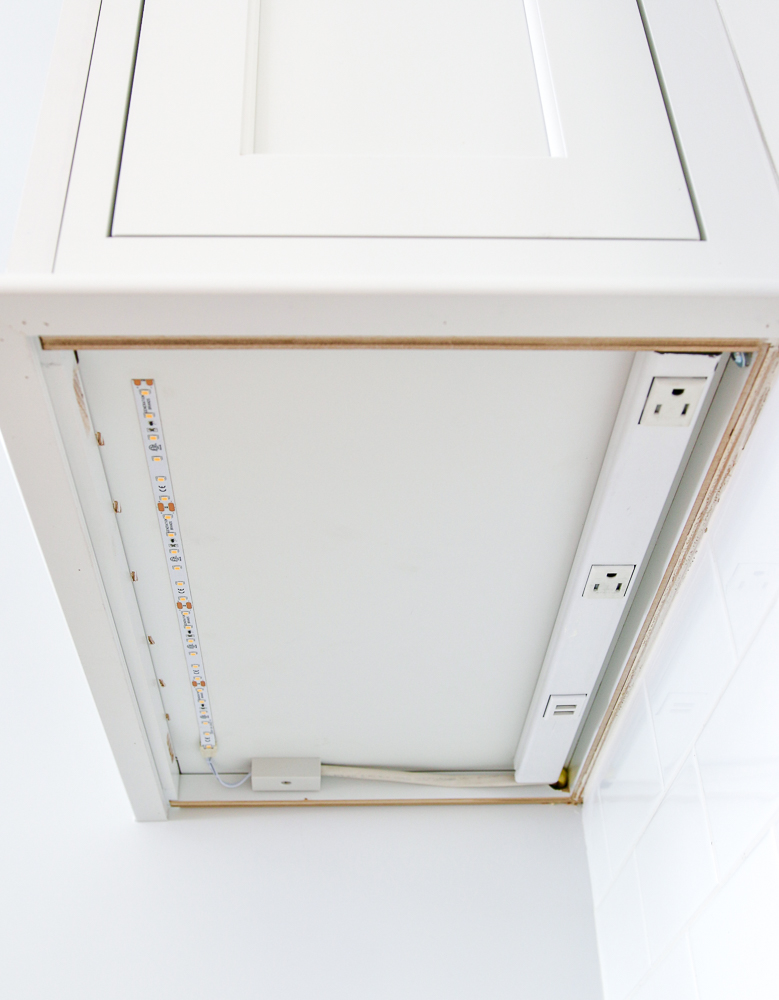 Another great place for these small but mighty strips is on the inside of a glass cabinet. If you add a light inside the top of a cabinet and you have glass shelves, the light will pass through and reach the lower shelves. However, if your shelves are wood, the light will only affect a single shelf. I swapped out the glass on the doors for metal inserts and I love how you can see the pattern when the lights are on.
Sconces | Drawer pulls | Round knobs | Door Latches
You can do one of two things in this situation. The first one is to add a puck light to the underside of each shelf. The second option, which I recommend all the time, is to install strip lights around the inner perimeter of the cabinet face so the light can illuminate all the shelves evenly.
Watts, Lumens, and Kelvin
These terms can be a little confusing, but every light bulb is a combination of energy efficiency, brightness, and color. Here is a simple explanation of each term to give you a better understanding of what your lighting needs are:
Watts – is the unit of measurement for the amount of energy that a light bulb uses to produce light and not an indicator of brightness. In the days of incandescent bulbs, a 100w bulb required 100w to illuminate. LED lights use a more efficient technology that requires less energy. For example, an LED bulb may only need 13w while the standard equivalent needs 60w.
Lumens – is the unit of measurement for the brightness emitted by a bulb. The higher the lumens, the brighter the bulb. If you want your kitchen island area to be brighter than your ambient lighting, then you'll need bulbs with a higher lumen value in your pendants. How you mix the brightness of your different light fixtures is a personal preference, but task lighting needs to be bright enough to see well.
Kelvin – is the unit of measurement for the color temperature of lighting. The recessed lights I mentioned earlier give you the option to adjust the color temperature without having to change the bulbs! The typical range is from 2700K to 5000K. The lower end of the spectrum has a warm yellowish hue while the higher end has a cool blueish look. The range also has other common descriptive terms you've probably heard of – warm white (2700K), soft white (3000K), bright white (3500K), cool white (4000K), and daylight white (5000K).
What makes it look high-end
Your style and taste are evident when it comes to what you wear and how you decorate your home. Even though you like what you like, it's fun to keep up with the latest design trends. Maybe something will catch your eye and give you ideas to freshen up your decor.
I like to stick with classics when it comes to the major elements in my home – like marble countertops and hardwood floors. That being said, I love to get inspiration from the pros for everything else!
Every detail has been thoughtfully selected and placed in a professional design. Take note of the light fixtures. How does that unique statement light fixture tie in with the cabinets? How is the scale of the light fixture compared to the rest of the space? Does the finish of the light fixture match the cabinet hardware or are they using a mix of tones and materials?
Pendants | Sconces | Drawer pulls | Round knobs | Door Latches | Salt & pepper mills | Rug
An important detail for a high-end-looking kitchen lighting design is fixture height. You don't want light fixtures to block your sightline as you move around the room or be in a position where you may bump your head.
Dimmers are the ultimate way to set the mood in any room but are helpful in the kitchen. Once you have them, you won't be able to live without them! Just make sure your fixtures and bulbs are compatible.
The last detail to be considered for the perfect designer kitchen is scale. If you choose something that is way too big, no matter how beautiful it is, it won't look good. Anything too small likely won't contribute much to your design.
In summary, planning is crucial when coming up with a kitchen lighting design. Have the appropriate conversations with your contractor, measure every aspect of your light fixtures, and keep the style of your home in mind when putting it all together!
Check out some of my favorite kitchen decor: