How to Use Brass Cabinet Hardware Around Your Home
Disclosure: This post may contain affiliate links. As an Amazon Associate, I earn from qualifying purchases at no additional cost to you.
Is brass cabinet hardware old-fashioned or timeless?
What comes to mind when someone mentions brass? If you're imagining glass tables with shiny painted legs from the 80s…I have some news for you! Sure, there have been some poor examples of brass decor over the years. But if you pick up the latest issue of any home decor magazine, you'll see the warm glow of brass cabinet hardware.
Adding touches of brass gives your home a luxurious feel. You can do this easily with decorative accents, light fixtures, curtain rods, or even furniture. For me, switching to brass cabinet hardware made the biggest impact and gave my home a designer look. I'm going to show you the beautiful brass cabinet hardware around my home so you can be inspired to add some "gold" to your home too! See how iconic it looks with a classic white kitchen and also how it complements a dark and moody space.
Kitchen cabinets and drawers
When designing my dream kitchen, I wanted to use timeless elements like white cabinets and honed marble countertops. I didn't want the biggest part of the kitchen renovation budget going to something I would consider trendy for a couple of years.
Polished nickel hardware was the perfect finish to complete my classic white coastal kitchen. But, after some time I started noticing high-end designers I admire using brass cabinet hardware and I fell in love. The switch to unlacquered brass hardware was easy. I love how it patinas over time, becoming more beautiful with every touch.
I had inset factory white cabinet doors installed during the remodel so I went with a classic oval unlacquered brass cupboard latch for the small upper cabinets and the one below the sink. The vintage-inspired design made my heart skip a beat so I had to use them!
All the other cabinet doors have a single unlacquered brass round knob. It's amazing how something so simple can be so beautiful and versatile! Use it in any style kitchen; traditional, modern, farmhouse, you name it! These knobs have a smooth surface that is easy to clean; important for high-traffic areas like your pantry cabinets.
I used the same pulls on all the drawers, in varying sizes. I was drawn to the elegant lines of the handles and the symmetrical detail on the ends. They felt elegant, classic, and perfectly tied in with the other selections.
Just off the kitchen is the mudroom with built-ins. Since this space is so close to the kitchen I used the same unlacquered pulls and latches for continuity.
Pulls | Latches | Baskets | Message board
Living room built-ins
My kitchen flows into the living room so I knew right away I was going to switch to brass cabinet hardware on the DIY built-in cabinets on either side of the fireplace. This space has a more casual feel than the kitchen so I went with a different style of brass cabinet hardware that would still complement the unlacquered brass in the kitchen.
Pulls | Knobs | Coffee table | Velvet sofa | Picture light
The builtins don't have as many cabinets and drawers as the kitchen so I wanted to use something that was a little more substantial, but not overwhelming. I chose a square knob with a subtle pyramid detail for the cabinet doors and a classic bin pull for the drawers.
Office – brass cabinet hardware details
My office space has evolved over time. Actually, it's even had different locations around my home! My old office was in the basement. I finally settled on a permanent spot and went straight to making it functional and beautiful. Having experience building cabinets in my upstairs loft and my living room, I knew could create something magazine-worthy here.
Leather chair | Pulls | Cremone bolts | Knobs | Picture light | Brass door inserts
I painted the walls, trim, and cabinets the same color and it isn't my favorite shade of white! This time I went with Benjamin Moore Storm Cloud Gray. It has the perfect amount of green undertones tones I was looking for. The brass cabinet hardware for the lower cabinet doors and the drawers is similar to the kitchen but with an antique brass finish. The cremone bolts used on the taller cabinet doors are also antique brass and have such beautiful details. The bolts paired with metal door inserts sure give a vintage vibe! My office built-in cabinet tutorial can be found here.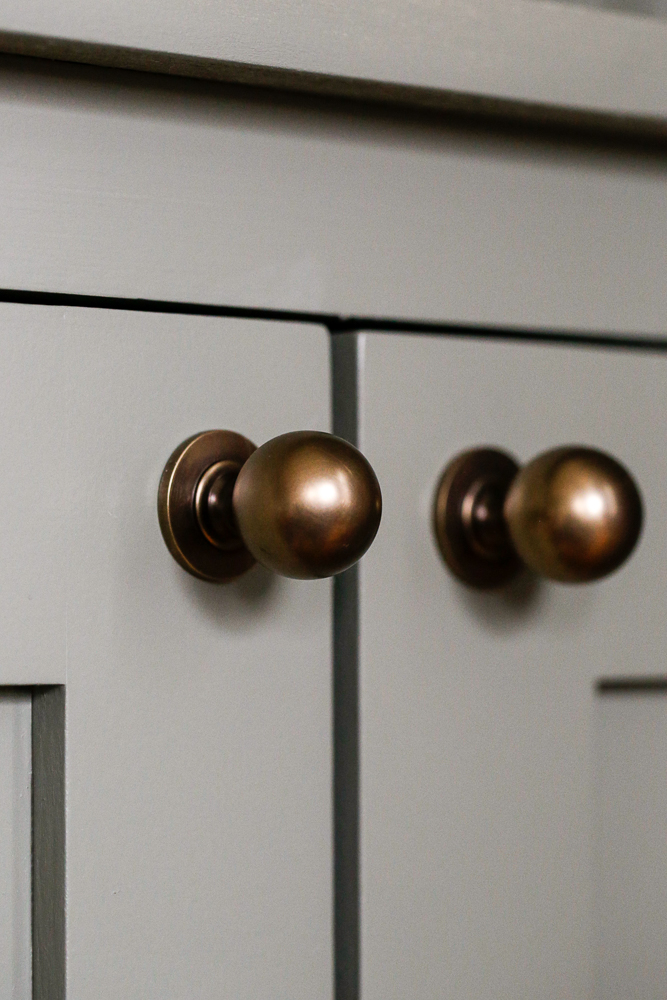 Cremone bolts are traditionally used for windows, but can easily be added to a door. Worried about the installation? Don't be, the bolts don't actually have to be functional on a door. Just add a stopper on the inside of the cabinet to prevent the doors from swinging inward.
Shared boy's room
Another DIY project I took on was in my boy's shared room. I added shiplap to the walls and added built-in dressers and desks on both sides of the room. This space needed to have a cozy casual feel because it is for teenage boys, after all! The classic warm tone of aged brass drawer pulls, round knobs, and bin pulls complement the paint color (Behr Light Granite) perfectly. With the other furniture and decor selections this room has a masculine feel.
Desk chair | Desk bin pulls | Knobs | Drawer pulls
Classic primary suite elements- marble and brass
The most dramatic renovation in my home has been the primary bathroom and adjoining closet. While it was difficult to live in a construction zone…it was worth it! The aged brass cabinet hardware I used in these spaces probably looks familiar because it's the same style I used in my kitchen. Both the bathroom and closet have marble floors with cabinets painted Sherwin Williams Accessible Beige. I really love how the brass knobs and latches added warmth and complemented the cooler tones of the natural stone.
Knobs | Latches | Double Sconce | Medicine cabinets
To see the details of the adjoining primary bedroom, check out this post!
Basement – modern wet bar and bathroom
You've seen how brass cabinet hardware looks with white kitchen cabinets. Now let me show you how beautiful it looks against the dark and moody cabinets in my basement wet bar area. The dark cabinets and countertops were a far cry from my design choices in the past. But I love how the aged brass hardware and black cabinets brought all the drama and gave this space a modern twist.
Knobs | Pulls | Pendant | Faucet
Having painted the nearby media room black (Sherwin Williams Black Magic), I kept things light in the small bathroom. This bathroom also has aged brass cabinet hardware on the built-in shelves and vanity. Even though I loved the color and lines of the prefabricated cabinet from Home Depot, I wanted to dress it up a little so I simply changed out the factory hardware for a nicer set of brass pulls!
Pulls | Sconces | Vanity | Medicine cabinet
Tips for installing brass cabinet hardware
Did you notice how I use different brass cabinet hardware in the same space? This is a simple way to add visual interest without drawing the eye to a repetitive pattern. You can certainly use the same hardware for cabinets and drawers if you have a modern style or even a modern farmhouse kitchen. Honesty, the way you mix or match brass cabinet hardware comes down to personal preference and taste.
While the placement of brass cabinet hardware is relatively standard, the key is to make sure each piece is level and centered. The easiest way to get a precise measurement is to use a template or hardware jig kit like the ones below.
Another important thing to consider when replacing existing cabinet hardware is the size. Not just the length of the handle, but the distance between the posts. The center-to-center measurement listed for pulls refers to the distance between the holes drilled into the drawer or cabinet, so get that measuring tape out! If you have replaced your cabinets or your cabinets don't have pre-drilled holes, then you're in luck! You can start fresh and use any size of hardware without having to consider filling holes or being limited to adjustable pulls.
Now you have some ideas to get you started on adding brass cabinet hardware to your home! Find the right pieces to show off your style and give your home a classy update!