Simple Pantry Cabinet Storage Solutions to Organize Your Life
Disclosure: This post may contain affiliate links. As an Amazon Associate, I earn from qualifying purchases at no additional cost to you.
Why is pantry cabinet storage organization important?
All of us run into storage challenges in the kitchen at some point. Maintaining organization can be tricky, especially if you have a large family or even just a couple of hungry teenagers (and friends) in the house. Throw in some holiday hosting duties and things can go from bad to worse quickly. A good system prevents the extra load from having a negative impact on the heart of your home. Whether you have a large walk-in pantry or a pantry cabinet and drawer section in your kitchen, these tips will help you declutter and unlock the potential of your space!
Glass jars | Labels | Salt and pepper mills | Cutting board | Mixing bowls | Faux artichokes | Cabinet door latches | Drawer pulls | Cabinet door hardware | Cookbook | Sconce
Types of pantry storage
This is an area of the home that runs the gamut. Sure, Pinterest is full of gorgeous kitchens with hidden pantry doors made to look like part of the cabinetry. While this feature isn't in your typical kitchen, it sure is amazing! I'm going to start off by explaining the setup I use and then explore other common pantry types you have seen.
Pantry cabinet and drawers – During my kitchen remodel, I focused on details to give my space a high-end look (find out if I still love my honed marble countertops). I may not have a separate pantry closet, but I do have plenty of custom-look inset cabinets and drawers so I designated the section near the food prep and cooking area for pantry cabinet storage. This conveniently keeps everything within reach so I don't have to go far to grab any last-minute ingredients.
Closet pantry – You don't need a large kitchen to have a closet pantry. As a matter of fact, this is the most common setup you'll find in homes these days, large or small. Closet space is great for accommodating additional things like small appliances and other bulky items. Keep emergency water bottles or paper products on the bottom. Use 12-inch deep pantry shelves up high so things don't get lost from view, but anything goes in the middle.
Freestanding pantry cabinet – This is an excellent option if you lack pantry cabinet or closet space. As I mentioned in my article about bathroom storage, cabinets are considered furniture and should be selected to coordinate with the look and style of your home. I have a wooden cabinet with glass doors to store some overflow items for my primary bathroom. This can be used for a kitchen pantry storage cabinet too!
Spice jars | Labels | Drawer pulls | Pull-out spice organizer | Fruit basket
Pantry cabinet storage – things to consider
Easily avoid any major storage issues – be aware of how much space you have and what you really need. Do this before you head out to shop (or hit that add to cart button)!
The best system to organize is the one that works for you and your space. You may not have a pantry cupboard (for those of you across the pond) or enough cabinet and drawer space to create the exact same look you found on Pinterest so do what ultimately works for you.
I like all the storage areas in my home (primary closet and bathroom vanity) to be functional but also to look aesthetically pleasing. By using matching baskets, bins, or containers you will reduce visual clutter created by all the colors and graphics on food labels. Your pantry will look neat and you'll know just where to find everything.
It's easier to come up with a system for larger storage spaces. If you have that magical hidden pantry, you probably have no issue getting it organized. Smaller spaces require bigger imaginations! You can use every inch of your space, even the inside of your pantry cabinet doors!
These pantry cabinet door-mounted spice racks let you take advantage of this overlooked space.
Spices
I'm sure you know by now that I love organized spaces and my spice drawer is no exception! I keep spices close so I can add a little of this and that as I go. My Rev-a-SheIf trimmable wood spice organizer is a pricier option, but the real wood is completely customizable for your space giving it that high-end look.
Spice jars | Labels | Drawer pulls
Here are a few drawer insert options to give you a similar look for less:
However, if you store spices in your pantry cabinet, use expandable tiered spice racks or pull-out organizers. They come in a variety of sizes and materials making it easy to find the right one for you. I use one to store a few overflow spices. The pull-out tray keeps the jars in place while you find what you're looking for!
Pull-out spice organizer | Fruit basket
Check out these other options for pantry cabinet spice storage:
Snacks and cereal
My goal was to designate cabinets and drawers that provide easy access to our most used items. The snack cabinet has everything organized into air-tight clear plastic containers. These containers are kid friendly – you don't have to worry about glass shattering if dropped. Plus, everything looks neat and we can see what it is and exactly how much of it we have.
When I dump contents into the containers, it all fits perfectly and I don't ever have anything extra. Just kidding!!! What do I do if the whole box of Cheerios doesn't fit into the container, you ask? I have a drawer for that! It holds all the overflow items and keeps them out of sight. Like most homes, this is a hot spot in the kitchen. Read here to see how these unlacquered brass cabinet knobs have more patina than others that don't get as much traffic.
If you have little ones independent enough to make their own snacks and lunches, keep those items within reach. I use bins and dividers in a bottom drawer to keep these things in place.
Dry goods
Baking is an occasional activity for me so I don't want to keep my baking supplies in high-traffic storage areas. A corner pantry cabinet that is easy to access houses mixing bowls and air-tight glass storage jars with all my baking ingredients. I prefer glass for things that are stored for longer periods of time, like flour and sugar. Snack container contents have a much quicker turnover so I don't worry about the possibility of plastic leaching into my pretzels. No one wants cookies that taste like plastic!
Glass jars | Labels | Mixing bowls | Measuring spoons
Add pretty labels since many of these ingredients can look the same. If you don't like the style that came with your jar set, you can purchase those separately. I like the minimalist look of these – classic!
I save the pantry cabinets and drawers next to the stove for oven mitts, kitchen linens, canned goods, and sauces as well as other dry goods, like pasta and rice. All the things that make it easier to put dinner together quickly on a hectic weeknight. Notice how you can see everything stored in each cabinet and drawer. Nothing is crammed in and shoved back, out of sight. Being able to see everything helps us keep track of our supply levels so we know exactly what needs to be added to the shopping list…Hey, Alexa!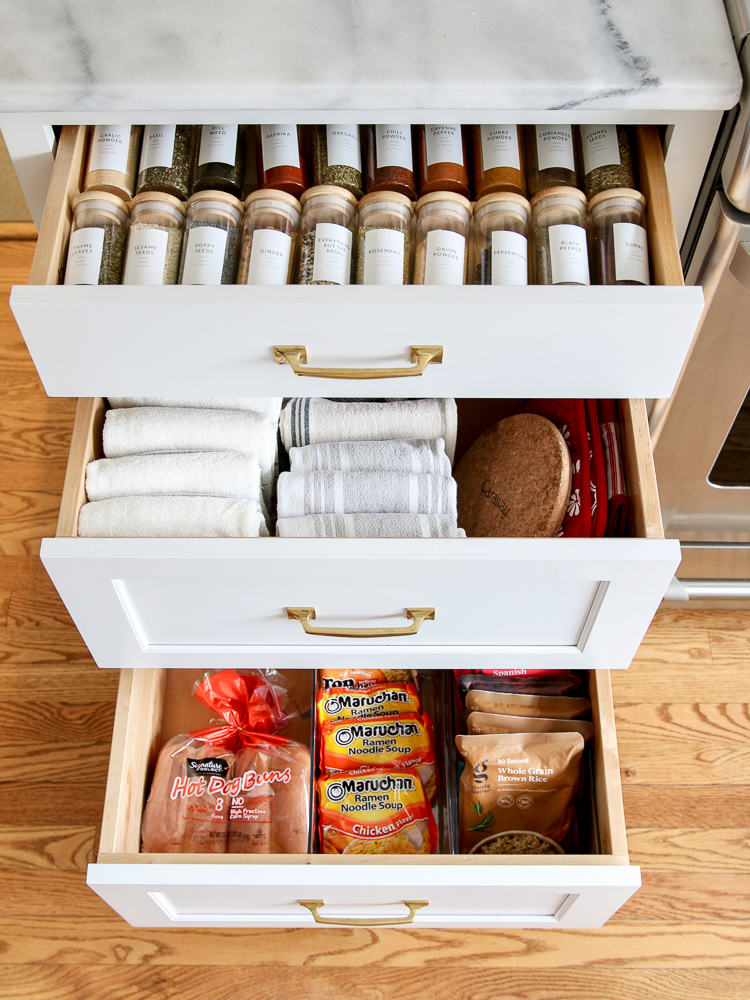 Additional organizational gadgets you can use in your pantry:
Keep pantry cabinet storage simple!
After all, that is the point of all this organizing, right? Reduce the amount of unnecessary stuff and establish order for the things you need. This creates a sense of tranquility that is not achievable when you are surrounded by clutter. Read here to learn how I keep my countertops clutter free!