Easy and Classic Christmas Kitchen Decorating Ideas
Disclosure: This post may contain affiliate links. As an Amazon Associate, I earn from qualifying purchases at no additional cost to you.
When it comes to decorating for the holidays, people most often focus their efforts on the tree in their living room. But what about the heart of the home? Christmas kitchen decorating is a breeze and a great way to add some holiday cheer. I'm sharing all my simple tips on how to decorate your kitchen without breaking the bank.
Christmas kitchen island decor
If you have a kitchen island, one of the easiest ways to decorate it for Christmas is with a centerpiece. All it takes is a beautiful vase and some greenery or berries to create a stunning display.
I like to change things up a little each year and sometimes that just means using a different vase. Another reason to have a few good ones in your stash of home decor!
Decorate your kitchen window for Christmas
There are a couple of ways I like to decorate my kitchen window for Christmas. The first is to hang a beautiful holiday wreath. I have a woven shade on my kitchen window so I wouldn't be able to close it if I had a wreath. Here are a few wreath options if this isn't a problem for you:
Instead of hanging a wreath directly on the window, I found these adorable mini wreaths that I hang from the sconces with ribbon. Just a few touches of red and green in a classic white kitchen is all you need!
The second way to decorate a kitchen window – or any window – is to hang a strand of garland above it. You can go straight across or drape it like a swag in the front. This method shouldn't interfere with the shade mechanism and allows you to freely open and close it as you please.
My favorite garland is the real touch Norfolk pine from Afloral and I use it all over my home. Check out my post that breaks down how I decorate my fireplace mantel!
Countertop kitchen Christmas decor
There are plenty of ways to decorate your countertops for Christmas. A small tree – or collection of trees – is a great way to make your kitchen look Christmassy. Even if you are going for a minimalist look, find a simple one that doesn't have lights or decorations.

Decorative Christmas objects are green too! Bells, wooden trees, candles…anything goes!
Tap to shop these Amazon Christmas kitchen finds:
Kitchen cabinet Christmas decorating
I am fortunate to have a lot of kitchen cabinets, so I don't typically decorate them for Christmas. I prefer a minimalist look and if I added decor to every cabinet it would be too much for my personal taste.
Cabinet Christmas decor ideas:
However, if you want to decorate your cabinets – go for it! This is another great place for mini wreaths or sprigs of holiday greenery.
Christmas decor for counter stools
This is one of my favorite ways to decorate a Christmas kitchen. Mini wreaths on the backs of my rattan counter stools give my kitchen just the right amount of color and texture.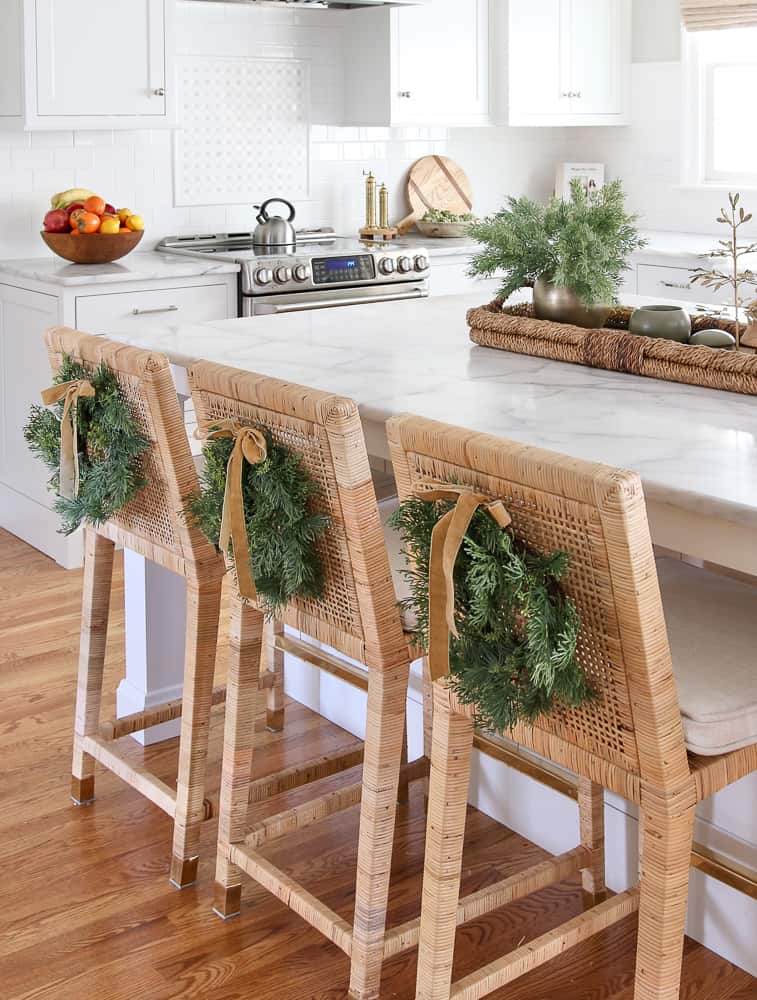 In the images below, you can compare how my kitchen looks with and without decor on my counter stools.
Christmas kitchen linens
We all have linens in the kitchen, whether it's dish towels or decorative tea towels. Maybe you typically keep them out of sight but during this time of year, use them to decorate your Christmas kitchen! Here are a few options with a hint of the holidays: