How To Choose Faux Flowers That Look Real
Disclosure: This post may contain affiliate links. As an Amazon Associate, I earn from qualifying purchases at no additional cost to you.
What are faux flowers?
Nothing beats stepping out into your garden to gather fresh-cut spring blooms for your home. As you go about your day, you'll get glimpses of beautiful petals that remind you that summer is coming! If you don't have a green thumb or the time to spend frolicking in a garden, faux flowers are a great option. Faux means something is an imitation, artificial, or fake. But, it doesn't have to mean cheap or ugly.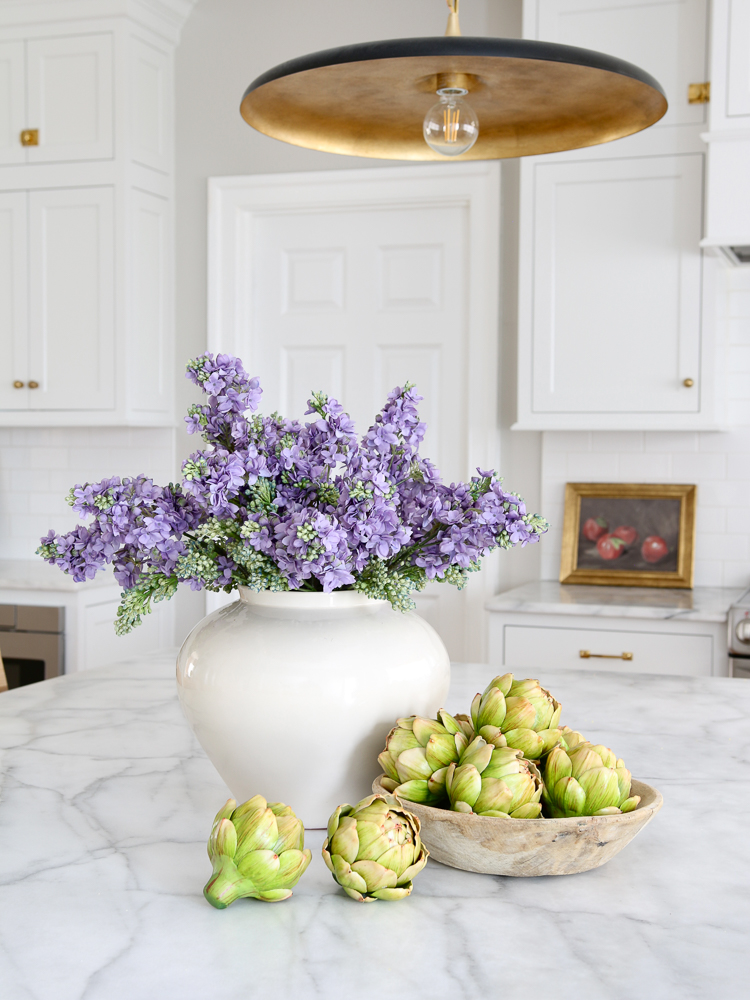 Silk Lilacs | Faux artichokes | Pendants
I know what you're thinking about…those dusty cheap-looking arrangements from your childhood, right? I'm not quite sure what was happening during that time period. While it was a fun decade for music, the 80s were not the best years for cars or home decor.
Instead of focusing on the tragic decor of that era, think about the wonderful memories of homecooked meals and big hugs from your grandmother. I'm sharing what to look for when choosing faux flowers that look real so you can create new memories with your family without the cringeworthy background.
Fresh flowers vs. Faux flowers
My first choice is always to use fresh flowers or stems for arrangements in my home. I have access to nature in my backyard and can simply step out to my porch or patio to forage a few stems or branches. I have to wait until things are in bloom in my area and while I love the look of fresh flowers, sometimes I want to start adding touches of spring to my home before spring arrives.
Sure, I can order fresh blooms like the ones above, but certain flowers aren't readily available which can drive up the cost of shipping. Buy fresh flowers when they are in season or for special occasions.
Here are some examples of how I use flowers and branches from around my property:
The "middle-man" in the floral world is dried or preserved flowers. They have all the qualities of real flowers because they ARE real flowers, just without a short lifespan. Afloral has a really great selection of dried and preserved flowers.
Depending on the technique used during the preservation process, you may still have a mess of dried petals to clean up as they can be quite fragile. I grow hydrangeas out front and give a little spritz of hair spray during the drying process to keep them looking beautiful.
I have a love/hate relationship with artificial flowers or anything else that is faux, to be honest. It's why I use materials like marble, real hardwood, bluestone, and brass when designing my spaces. Understandably, that is not always possible so when I have to go with an imitation, I try to find the best possible option.
What I do like about faux florals is that they are pest-free, don't cause allergy issues for those sensitive to pollen, and last a long time. The good ones certainly are not cheap due to better materials, but if you find something timeless that looks real and can be reused year after year it's worth the extra cost. Just remember…if you love the scent of fresh flowers, that is tough to imitate.
Vase | Blossoming branches | Velvet sofa
What makes an artificial flower look real
There are still plenty of obviously fake stems and branches available, but retailers have been stepping up their game. Materials have improved with technology, like many other aspects of our lives and it seems manufacturers are making a concerted effort to add realistic features. Here are a few things that make faux flowers look real:
Realistic colors – every petal having the same bold color makes a flower look fake. Real ones have some variation in hue and saturation.
Imperfections – everything in nature has imperfections. Maybe a blossom is a little lopsided or a stem is growing in a wonky direction. It happens…
Stages of growth – not every bud will open at the same time. It is normal to have some that are in full bloom while others are still closed up tight.
Branches and stems – fake ones are easy to spot. It's a little easier to make imitation branches look real compared to flowers. If the stem looks like plastic from afar, run!
Water – a dead giveaway of fakeness is an arrangement sitting on a retailer's shelf that has visible "water" in the vase. Leave it right where it is.
Tips to make fake stems and branches look real in your home
The stems of faux florals come in different lengths. You can either put longer stems in a taller vase or simply bend them to fit your vessel of choice. Just be sure that it is opaque so you don't see the bundle of deformed stems.
If you must use a glass vase where the stems are visible, grab your wirecutters and give them a snip. I already mentioned fake arrangements in a store with water are obvious, but the opposite is true as well. Real flowers need water so if your vase at home doesn't have any, that looks fake too!
Placement is very important. Try to use spaces that are a natural landing point for a floral arrangement. A lovely display on your entryway table will make guests feel welcome. Cheerful blooms in your kitchen will help brighten your Monday morning routine. Creating a beautiful centerpiece will elevate your dining experience for everyday and special occasions.
These are all common areas you see flowers. Does ivy grow naturally on top of your cabinets? No, it doesn't, so don't be tempted to add faux vines to that dust trap or silk flowers to the back of a toilet tank either.
Mirror | Console table | Wicker jars
I have a fear of my home becoming old-fashioned or outdated causing me to change my home decor pretty frequently. Changing your decor for the season should include faux flowers and greenery too.
For the holidays, I have my favorite garland and my winter stems out. Garland isn't appropriate for summertime just as cherry blossoms don't belong out in the winter. Learn the best way to hang garland around your home!
When it comes to styling branches, don't overstuff your vase. They actually look better a little sparse so you can save some money there. Play around with the number of flowers when making arrangements. Some look better in a fuller display while some don't.
Is it ok to use fake plants outdoors?
The same seasonally appropriate rules apply to using artificial flowers and greenery outdoors. If there is snow on the ground you probably shouldn't have any flowers out that naturally grow in the warmer months of the year.
My opinion on using faux plants outside is that it's okay as long as you don't overdo it. The soil where you live might not be conducive to growing certain plants or shrubs so you will have to take advantage of the imitation options out there. My front door wreath and shrubs are fake but so realistic looking!
For my favorite Amazon stems, read my post with my list of Amazon home decor under $100.