Wicker Nightstands for Girl's Room – Quick Ship
Disclosure: This post may contain affiliate links. As an Amazon Associate, I earn from qualifying purchases at no additional cost to you.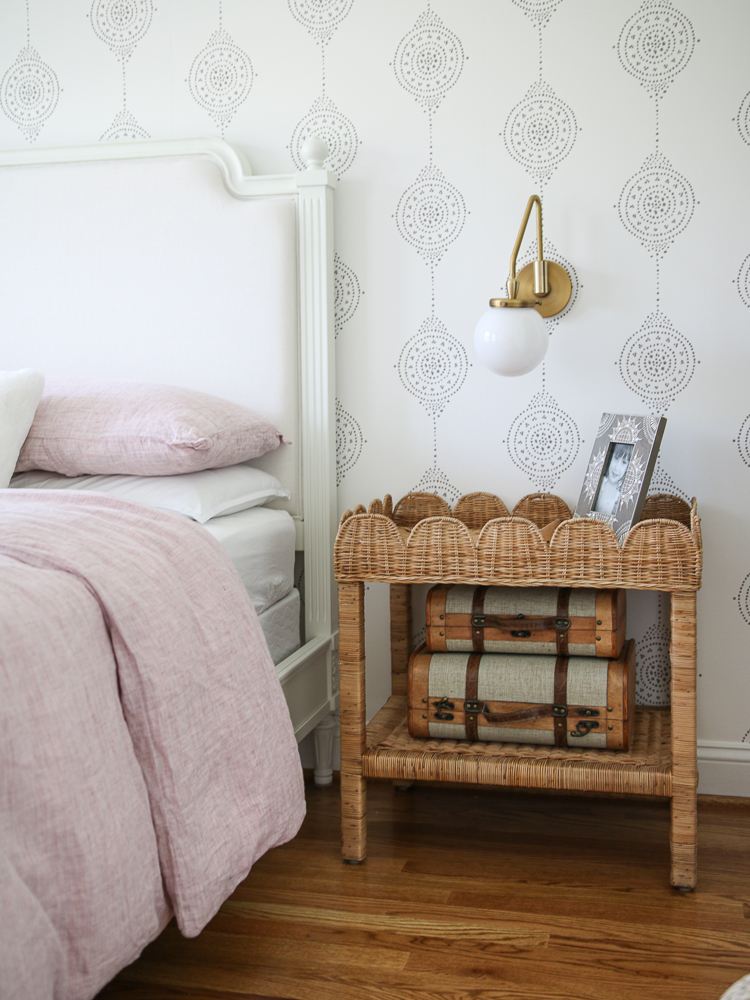 My daughter's room got a little upgrade with these charming scalloped wicker nightstands from Serena and Lily. The room has had a few transformations in the past couple of years, the biggest one being the hardwood floors that replaced the old carpet. Here is a BEFORE picture:
Room Design
My intention for this room was to have a feminine look but not too girly or childish so it can grow with Juliet. The accent wall behind the bed is the Luna Stripe Wallpaper from Serena and Lily in gray. We started out with all white nightstands and a white bed but the nightstands were never my favorite because they weren't the best quality. I also wanted to bring in a woven element to tie with the chandelier. Once the new hardwood floors were installed, the room could accommodate warmer tones.
The style I'm going for now also reflects a change in the overall style of our home. The main mood is still white and bright but I have been intentionally bringing more warm tones and woven elements in all the rooms. I have incorporated quite a few pieces from Serena and Lily in our home. (Read about our Serena and Lily Balboa counter stools here.) The traditional coastal style of Serena and Lily is reimagined in a colonial home setting with classic furniture and vintage found accents.
The Scalloped Wicker Nightstands from Serena and Lily are the perfect complement to the woven chandelier and they warm up the room by bringing in a textured element. The scalloped detail is adorable and very fitting for a girl's room. It's the perfect space for Juliet to corral her little memento items. The shelf below can display decor item or be functional storage for her many books.
The wicker nightstands can also serve as a side table by a sofa or even as an accent table in a small hallway or entryway space.
What was amazing about these scalloped wicker nightstands is that they were a quick ship item and arrived within a couple of weeks! There aren't many furniture items that are in stock and ship quickly these days but Serena and Lily has quite a few in their selection.
Serena and Lily offers the ability to filter out items by availability with shipping options within 1-2 or 2-4 weeks. This feature is a lifesaver when doing room designs because if you've tried to source furniture lately, you know the standard fulfillment time can be upwards of 20-30 weeks.