Dining Room – World Market Elena Chairs
Disclosure: This post may contain affiliate links. As an Amazon Associate, I earn from qualifying purchases at no additional cost to you.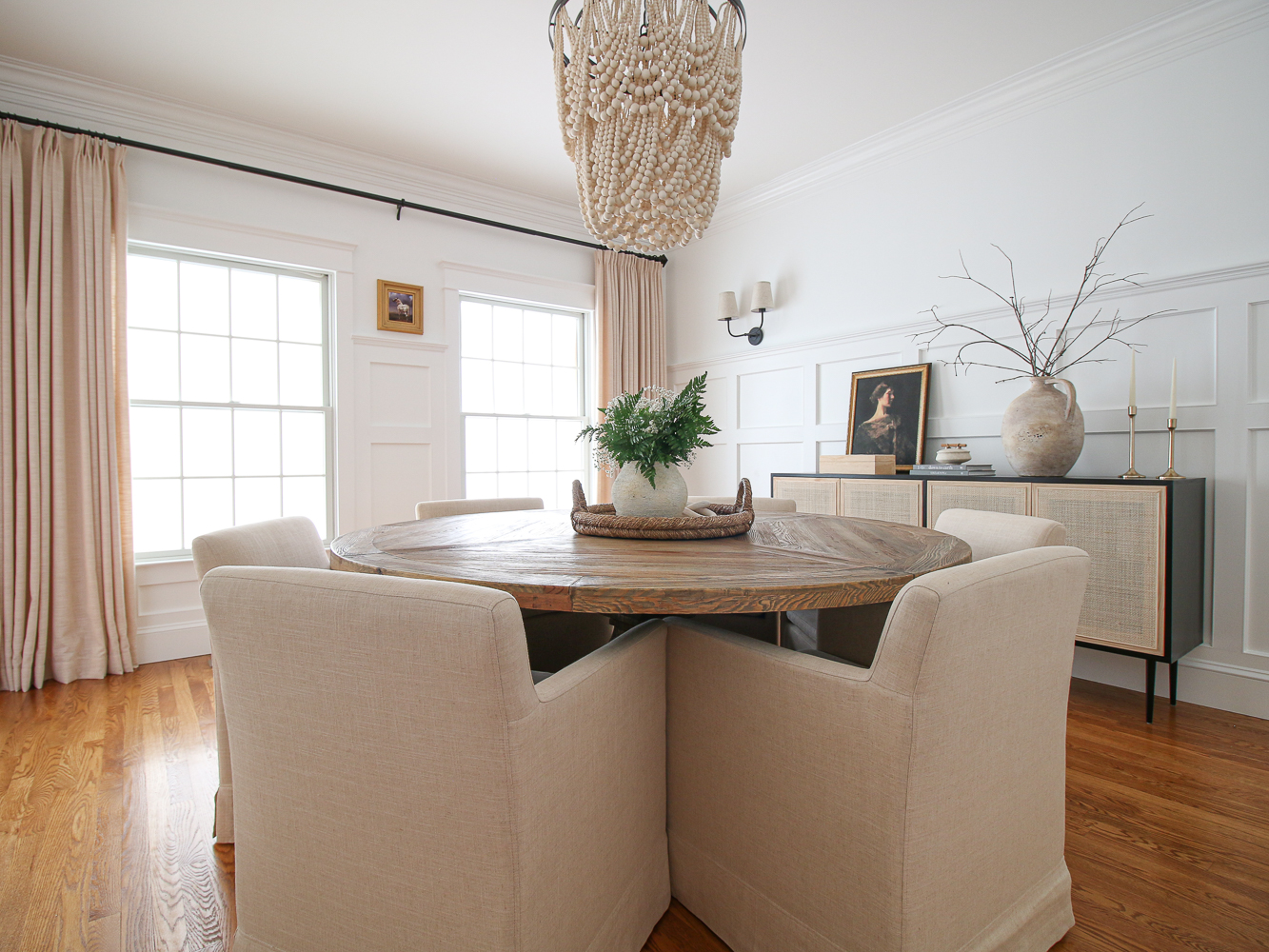 This room in my house has had the most transformations in the last few years. I have changed the paint color, light fixtures, tables, chairs, rugs, and buffet. Some of them – multiple times. For some reason, even though each change was an improvement, I was never a hundred percent happy. I think this latest one is as close as I will come at this point.
World Market Elena Chairs
I had switched to a large round table for this almost square space but hadn't gotten around to getting chairs for it after I sold the previous set. Part of the reason is that I needed six to eight chairs. Knowing how often I change my mind, I didn't want to commit to expensive dining chairs. Then, once I decided on the World Market Elena chairs, I had to wait weeks for it to come back in stock. It sells out periodically but then it comes back in stock.
I love that the chairs are fully upholstered which prevents more wood tone from being introduced in the room. The low back makes them less overwhelming since there are so many of them around the table. I got eight of them and if needed we can fit all around the table but I am keeping only six on a daily basis for an uncluttered look.
The best feature of these chairs are the casters. It's so easy to move them around the floor. The seat cushion is loose and the cover removable and washable. The rest of the upholstery is attached to the frame – it's not a slipcover. I made sure to spray them with scotch guard to prevent staining.
The Cane Buffet
You might have noticed this cane door buffet in the dining room. It looks just like the Pottery Barn Dolores cane buffet and it was inspired by it. However, it was 100% DIY from scratch by your truly. If you follow me on Instagram, check out my story highlight for the tutorial.
Amazon Pinch Pleat Drapes
I have to mention the new drapes too! They have the look of very expensive custom drapes but are a fraction of the cost. The drapes have a textured linen look and are unlined (lined are available from the seller). The pinch pleats is what gives them that tailored custom look. I recommend using these rings from Amazon as well. The color of these dining room drapes is Sand Beige. Read my post on How To Hang Drapes Like A Pro.
Dining Room Refresh – Wall Molding
How to Find Matching Dining Chairs, Bar, and Counter Stools
Dining Room Sources