Design Tips for Mixing Metals in Bathroom
Disclosure: This post may contain affiliate links. As an Amazon Associate, I earn from qualifying purchases at no additional cost to you.
Is it ok to mix metals in a bathroom?
Absolutely! Gone are the days of strict design rules – the mixed metal bathroom trend is here to stay! Finding the right combination can seem like a daunting task, but I'm here to help. I follow a few simple guidelines and end up with a perfect blend every time. If you want to learn the secret of how to mix metals, this post is for you!
Round knobs | Door latch | Faucet | Mirrors | Towel holder | Marble tiles | Vanity (DIY painted SW Accessible beige) | Double sconce | Single sconce
Why should I mix metals?
If you want a bathroom with a curated look, mixing metals does just that. Introducing different tones and finishes makes your bathroom – or any space – feel more thoughtful and layered.
During my primary bathroom renovation, I started with the marble elements as the base of my design. This included the floor, vanity countertop, shower, and a portion of the walls. I balanced the cool tones of all that marble by adding hardware with a warm undertone and painting the vanity the perfect greige color (Accessible Beige).
Round knobs | Door latch | Faucet | Mirrors | Towel holder | Marble tiles | Vanity (DIY painted SW Accessible beige) | Double sconce | Single sconce | Vanity mirror tray
There is nothing wrong with keeping all your hardware the same tone. But mixing metals in a bathroom gives it a more refined and designer-inspired look. Using the same metal over and over again can come across as safe and boring.
It is also something builders like to do because it's cheaper and more efficient to buy the same hardware and fixtures in bulk and install them in the entire house. It eliminates decision-making and removes risk. Instead of builder-grade, my bathroom feels refined and lived in, with more complexity and visual interest.
Which metals can be mixed in a bathroom?
Now that you know why you should mix metals, the next thing I will review is the different types of metal fixtures out there. Let me start by saying that of all the finishes to use in a mixed metal bathroom, copper just isn't on the list for me. It is traditionally used for plumbing, but unless you have a farmhouse or are going for industrial-style exposed plumbing, I wouldn't recommend copper as a bathroom accent. It just doesn't have the contemporary look that fits my personal style.
The most familiar bathroom fixtures in the silver family are chrome and nickel. Chrome is a widely accepted choice for a bathroom, but I prefer polished nickel – keep reading to find out why!
Brass (and all its imitations) has been trendy lately and due to the warm yellow tone, it falls into the gold family of fixtures. Black is a neutral option that mixes easily with all the others.
In addition to color, consider the surface treatment that can affect the way it looks. These give the surface a shiny, brushed, or matte look.
Trending combinations
Just about anything goes, but there are a few mixed metal bathroom combinations that are a match made in heaven. One of my absolute favorite pairings is brass and polished nickel. Compared to chrome, polished nickel has a warm undertone and it looks stunning with brass. I have brass cabinet hardware and accents throughout my home so I choose polished nickel when I want to add contrast.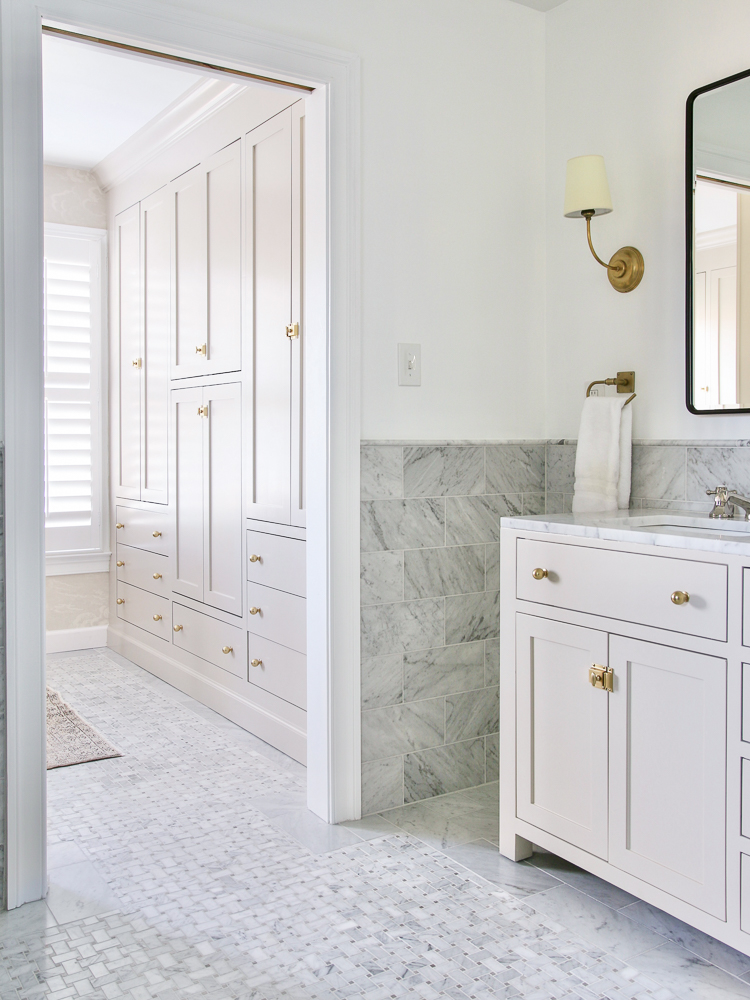 Marble wall tiles | Marble floor tiles | Round knobs | Door latches | Shower head | Hand shower
If you prefer the crisp look of chrome, I recommend using matte black as the coordinating counterpart. As long as you use different colors, it's okay to use different finishes for a winning combination.
Every design category has something that is considered a universal element. As far as bathroom fixtures, matte black is it. Choose any style that works in your home and if it comes in matte black, it's going to look great!
Matte black shower fixtures | Hexagon tiles | Subway tiles | Refillable bottles
Expert Tips
My first tip is that anything goes! Creating a well-appointed home means filling it with things that you love. If you have your heart set on a particular combination but it doesn't follow the rules, it's usually okay to break them! You are the one that lives in your home so it should be a reflection of your personal tastes. But if you're looking for more tips on how to mix metals, keep reading for a few of my tried and true suggestions.
Should I stick to two metals?
My recommendations on this depend on a few things. If you are selecting fixtures for a large bathroom, go ahead and use more than two metals. In my primary bathroom, I use a combination of three different metals – brass vanity hardware and lighting, polished nickel shower and sink fixtures, and matte black vanity mirrors and door hardware.
Did you notice the pattern? The only steadfast rule I follow is to repeat each metal at least once in the same room. My basement bathroom is on the smaller side, but I was still able to follow this rule and easily mix two different metals – aged brass and matte black.
Drawer pulls | Faucet | Mirror | Sconces | Hardware accessories | Vanity | White marble tiles | Gray marble tiles
It can be tricky to add more than two metals in a small space without it feeling chaotic and random. We are discussing fixtures in a mixed metal bathroom, but it's perfectly acceptable to use a single finish too.
Don't mix metals in the same color family
I just mentioned that it's fine to use a single metal in the bathroom, but you don't want to mix metals within the same color family. For example, chrome and polished nickel are both silver, however, chrome has a cool undertone in comparison to warmer polished nickel. This partnership highlights their differences and they end up clashing. There are ways to balance the undertones in a room, but this is not one of them.
Throughout my home, you'll find brass cabinet hardware in several different finishes. However, I never mix finishes in spaces that have a sightline to another. My primary bathroom is connected to a walk-in closet that has aged brass hardware. Even though these spaces are separated by a pocket door, it's always open so it feels like one big space. Therefore, I opted to use aged brass cabinet hardware for the vanity.
Marble wall tiles | Marble floor tiles | Round knobs | Door latches | Faucet | Mirror | Double sconce
The same goes for surface treatments. Brushed nickel is the finish that became a builder-grade favorite in the early 2000s – a response to the shiny gold of the '90s. Brushed chrome and nickel are also preferred by homeowners because they don't show fingerprints and watermarks.
The classic and designer favorite within the silver tone family is polished nickel. But whatever you do, don't mix polished and brushed finishes. It is considered an interior design crime. Compare finishes in the images below.
When to not mix metals
Honestly, unless your only choice is to mix clashing metals, there is no reason not to mix finishes. Choosing features for the bathrooms in your home isn't the most obvious way to express your style, but it is certainly an important one. Even if you prefer one design style over the others, we all end up with an eclectic mix of pieces. How you style them in your home is what makes it special so if you've been wanting to mix metals…go for it!